WordPress database error: [Disk full (/tmp/#sql_21cc_0.MAI); waiting for someone to free some space... (errno: 28 "No space left on device")]
SHOW FULL COLUMNS FROM `wp_wfLiveTrafficHuman`
WordPress database error: [Disk full (/tmp/#sql_21cc_0.MAI); waiting for someone to free some space... (errno: 28 "No space left on device")]
SHOW FULL COLUMNS FROM `wp_wfLiveTrafficHuman`
WordPress database error: [Disk full (/tmp/#sql_21cc_0.MAI); waiting for someone to free some space... (errno: 28 "No space left on device")]
SHOW FULL COLUMNS FROM `wp_options`
WordPress database error: [Disk full (/tmp/#sql_21cc_0.MAI); waiting for someone to free some space... (errno: 28 "No space left on device")]
SELECT wp_posts.* FROM wp_posts INNER JOIN wp_postmeta ON ( wp_posts.ID = wp_postmeta.post_id ) WHERE 1=1 AND ( wp_postmeta.meta_key = 'tve_group_order' ) AND wp_posts.post_type = 'tve_lead_group' AND ((wp_posts.post_status = 'publish')) GROUP BY wp_posts.ID ORDER BY wp_postmeta.meta_value+0 ASC
WordPress database error: [Disk full (/tmp/#sql_21cc_0.MAI); waiting for someone to free some space... (errno: 28 "No space left on device")]
SELECT DISTINCT t.*, tt.* FROM wp_terms AS t INNER JOIN wp_termmeta ON ( t.term_id = wp_termmeta.term_id ) INNER JOIN wp_termmeta AS mt1 ON ( t.term_id = mt1.term_id ) INNER JOIN wp_term_taxonomy AS tt ON t.term_id = tt.term_id WHERE tt.taxonomy IN ('tva_courses') AND ( wp_termmeta.meta_key = 'tva_order' AND ( ( mt1.meta_key = 'tva_status' AND mt1.meta_value IN ('publish') ) ) ) ORDER BY wp_termmeta.meta_value+0 DESC
WordPress database error: [Disk full (/tmp/#sql_21cc_0.MAI); waiting for someone to free some space... (errno: 28 "No space left on device")]
SELECT DISTINCT t.*, tt.* FROM wp_terms AS t INNER JOIN wp_termmeta ON ( t.term_id = wp_termmeta.term_id ) INNER JOIN wp_termmeta AS mt1 ON ( t.term_id = mt1.term_id ) INNER JOIN wp_term_taxonomy AS tt ON t.term_id = tt.term_id WHERE tt.taxonomy IN ('tva_courses') AND ( wp_termmeta.meta_key = 'tva_order' AND ( ( mt1.meta_key = 'tva_status' AND mt1.meta_value IN ('private') ) ) ) ORDER BY wp_termmeta.meta_value+0 DESC
WordPress database error: [Disk full (/tmp/#sql_21cc_0.MAI); waiting for someone to free some space... (errno: 28 "No space left on device")]
SELECT DISTINCT t.*, tt.* FROM wp_terms AS t INNER JOIN wp_termmeta ON ( t.term_id = wp_termmeta.term_id ) INNER JOIN wp_termmeta AS mt1 ON ( t.term_id = mt1.term_id ) INNER JOIN wp_term_taxonomy AS tt ON t.term_id = tt.term_id WHERE tt.taxonomy IN ('tva_courses') AND ( wp_termmeta.meta_key = 'tva_order' AND ( ( mt1.meta_key = 'tva_status' AND mt1.meta_value IN ('publish','draft') ) ) ) ORDER BY wp_termmeta.meta_value+0 DESC
WordPress database error: [Disk full (/tmp/#sql_21cc_0.MAI); waiting for someone to free some space... (errno: 28 "No space left on device")]
SELECT t.*, tt.* FROM wp_terms AS t INNER JOIN wp_term_taxonomy AS tt ON t.term_id = tt.term_id WHERE tt.taxonomy IN ('apprentice') ORDER BY t.name ASC
WordPress database error: [Disk full (/tmp/#sql_21cc_0.MAI); waiting for someone to free some space... (errno: 28 "No space left on device")]
SHOW FULL COLUMNS FROM `wp_wfLiveTrafficHuman`
WordPress database error: [Disk full (/tmp/#sql_21cc_0.MAI); waiting for someone to free some space... (errno: 28 "No space left on device")]
SHOW FULL COLUMNS FROM `wp_wfLiveTrafficHuman`
WordPress database error: [Disk full (/tmp/#sql_21cc_0.MAI); waiting for someone to free some space... (errno: 28 "No space left on device")]
SELECT t.*, tt.* FROM wp_terms AS t INNER JOIN wp_term_taxonomy AS tt ON t.term_id = tt.term_id INNER JOIN wp_term_relationships AS tr ON tr.term_taxonomy_id = tt.term_taxonomy_id WHERE tt.taxonomy IN ('category') AND tr.object_id IN (20143) ORDER BY t.name ASC
WordPress database error: [Disk full (/tmp/#sql_21cc_0.MAI); waiting for someone to free some space... (errno: 28 "No space left on device")]
SELECT t.*, tt.* FROM wp_terms AS t INNER JOIN wp_term_taxonomy AS tt ON t.term_id = tt.term_id INNER JOIN wp_term_relationships AS tr ON tr.term_taxonomy_id = tt.term_taxonomy_id WHERE tt.taxonomy IN ('post_tag') AND tr.object_id IN (20143) ORDER BY t.name ASC
WordPress database error: [Disk full (/tmp/#sql_21cc_0.MAI); waiting for someone to free some space... (errno: 28 "No space left on device")]
SHOW FULL COLUMNS FROM `wp_wfHits`
Exercício: Leitura e Compreensão de texto - No Passport Required
Leia o texto e escolha as alternativas corretas.
No Passport Required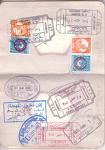 Citizens from nine new European Union member states will soon be able to travel to other countries in the EU without a passport.
Slovakia, Slovenia, Estonia, Hungary, Latvia, Lithuania, Poland, the Czech Republic and Malta will not perform passport checks at their borders with other EU countries.
The expansion of the passport-free zone will allow millions of Europeans to travel more easily.
It will take place one minute after midnight on December 21.
Copyright Inglês Online | Todos os direitos reservados.
Session expired
Please log in again. The login page will open in a new window. After logging in you can close it and return to this page.
WordPress database error: [Disk full (/tmp/#sql_21cc_0.MAI); waiting for someone to free some space... (errno: 28 "No space left on device")]
SHOW FULL COLUMNS FROM `wp_wfHits`