Clique no player para ouvir os exemplos em inglês, que estão em itálico no texto da dica!
Ou, baixe o áudio com os exemplos

This, that, these e those são pronomes demonstrativos: palavras usadas no inglês de maneira similar à que usamos o grupo de palavras isto, aquele, estas, aquelas, etc., ou seja, quando queremos monstrar ou especificar algo (ou alguém) com relação à distância no espaço ou tempo.
Ao final desta dica, não deixe de fazer o exercício :-)
Como usar os pronomes demonstrativos this, that, these e those?
This e these referem-se a algo ou alguém próximo no espaço ou no tempo. 
THIS é a forma no singular e corresponde a isto, este(a) ou esta(a).  Veja os exemplos: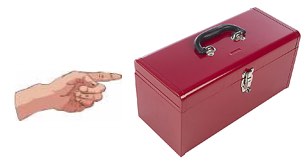 This box is red. [Esta caixa é vermelha] This is a red box. [Isto é uma caixa vermelha]
Repare que a mão está bem perto da caixa. Se você estivesse sentado na sua mesa de trabalho e nela houvesse uma caneta, um lápis e um computador, você iria se referir a eles assim: this pen, this pencil e this computer, já que eles estão bem próximos.
A pergunta comum para "O que é isso?" é What's this? A reposta pode ser tanto "It's a red box" quanto "This is a red box."
Recorde a forma interrogativa do verbo to be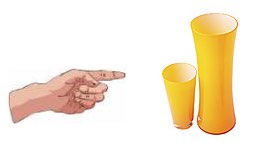 THESE é a forma plural de this. Veja os exemplos:
These cups are yellow. [Estes copos são amarelos] These are yellow cups. [Estes / Isto aqui são copos amarelos]
Da mesma maneira que com this, podemos fazer a pergunta What are these? (O que é isto?, que é outra forma de dizer "o que são esses objetos?")
É claro que numa situação normal apenas crianças pequenas olhariam para uma caixa ou alguns copos e fariam esse tipo de pergunta. Mas estes objetos (these objects) servem para ilustrar o conceito – em filmes, por exemplo, é comum um personagem entrar em algum lugar, olhar em volta, não entender nada do que está acontecendo e dizer "What IS this??" (com ênfase no is mesmo).
That e those referem-se a algo ou alguém distante no espaço ou no tempo.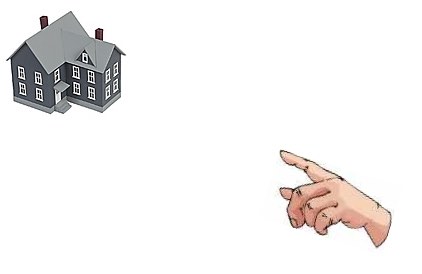 THAT é um pronome demonstrativo usada de algumas maneiras diferentes, mas aqui a gente foca só no uso como demonstrative pronoun do inglês. Com este fim, that é usado como aquilo, aquele ou aquela:
That dollhouse is small and grey. [Aquela casa de boneca é pequena e cinza] That is a small dollhouse. [Aquela é uma casa de boneca pequena.]
Repare que agora a mão está mais longe da casinha de boneca.
Obs.: Uma frase do tipo "That is a small dollhouse" em geral seria dita em inglês com uma entonação de "Que casa de boneca pequena!…"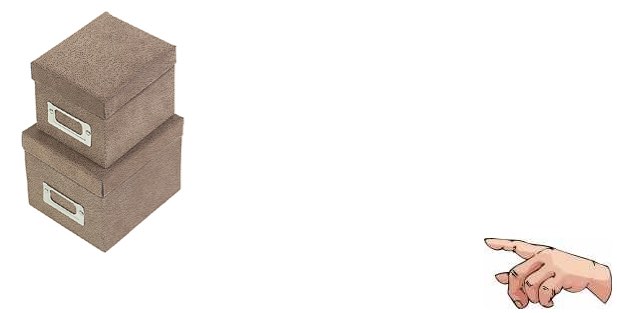 THOSE é a forma plural de that. Veja os exemplos:
Those boxes are brown. [Aquelas caixas são marrons] Those are brown boxes. [Aquelas são caixas marrons.]
Mais exemplos com os pronomes demonstrativos THIS e THAT
Veja que this, that, these e those podem vir antes de vários tipos de palavras:
this car is comfortable (antes de substantivo ou noun)
this is a great restaurant (antes de verbo)
that one is my favorite (antes de one, que aqui tem função de pronome – "that one" seria como se fosse "aquele um")
those ones are my favorite (mesma coisa que o exemplo anterior)
Faça o exercício e teste seus conhecimentos:
WordPress database error: [Disk full (/tmp/#sql_20b6_0.MAI); waiting for someone to free some space... (errno: 28 "No space left on device")]
SELECT ID,question,explanation, point_value FROM wp_mtouchquiz_question WHERE quiz_id=36 AND ID>=233 AND ID<=241 ORDER BY RAND() LIMIT 0, 8