O post de hoje é de Iramaia Loiola.

Hi guys,
A expressão escolhida para o post de hoje é bastante versátil, visto que podemos usá-la em diversas situações. Se você fizer uma busca rapidinha no Google vai constatar que ela é bastante querida. Então, por isso, ela foi a escolhida da semana, após uma difícil batalha com milhões de outras

. Estou falando de TURN OUT.
Um dos significados de turn out, segundo o dicionário Longman, é to happen in a particular way, or to have a particular result, especially one that you did not expect. Traduzindo: acontecer de uma maneira específica, ou ter um resultado específico, especialmente um resultado que você não esperava.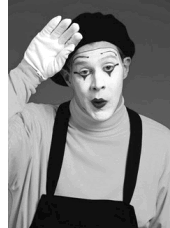 Então, para dizer que uma coisa deu certo ou ao contrário deu errado em inglês? TURN OUT é a solução. Como aqui:
I'm glad it turned out well for you. (Estou contente que deu tudo certo pra você.)
It wasn't his fault it turned out badly. (Não foi culpa dele que deu errado)
Nos dois exemplos acima, alguma coisa aconteceu e por isso teve um efeito final, que pode ser bom ou ruim, por isso os advérbios WELL e BADLY, ok?
Ainda com relação ao resultado de alguma coisa, usamos a expressão em português ACABOU QUE ou ainda NO FINAL DAS CONTAS. Perceba que quando falamos assim também estamos concluindo algo. Então, aqui também entra a nossa expressão. Veja o exemplo:
Carla thought someone was trying to kill her and it turned out she was right.
(Carla achou que alguém estava tentando matá-la e acabou que ela estava certa.)
Ou aqui, quando o resultado foi totalmente inesperado daquilo que você imaginou a princípio, como bem está definido no dicionário Longman. Digamos que você não está a fim de ir a uma festa, mas você vai e acaba gostando da festa, de estar lá. Nesse caso você diria algo assim:
I didn't want to go to that party at all but it turned out it was a blast and I had a great time there.
(Eu não queria ir à festa, mas acabou que foi um sucesso e eu me diverti muito lá.)
Outras situações com resultados inesperados:
Eu não estudei muito, mas no final das contas a prova não foi tão difícil. (I didn't study much, but it turned out the test wasn't that difficult.)

Eu não estava pensando em gravar um CD, mas deu tudo tão certo que eu decidi mandar ver. (I wasn't thinking about recording a CD, but it turned out so well that I decided to go for it.)

Tentei pintar meu cabelo de castanho escuro, mas acabou ficando preto. (I tried to dye my hair dark brown but it turned out pretty much black.)
A construção com o TO BE também é comum. Veja:
The forecast said it would be sunny all day, but it turned out to be rainy. (A previsão apontava que seria um dia ensolarado, mas acabou sendo chuvoso.)

It turned out to be simpler that I expected. (Acabou sendo mais simples que eu esperava.)
Há outros usos do TURN OUT, mas vamos focar somente nesse significado hoje, ok?
Agora me contem o que teve um resultado diferente daquilo que você imaginava? Ou, o que deu certo ou errado pra vocês nesses últimos tempos? Here's my example:
Yesterday I thought that I would have to wait in line to vote, but it turned out there wasn't anybody there and it took me just a minute to do it. Thank goodness! (Ontem eu pensei que eu teria que esperar na fila para votar, mas no final das contas não tinha ninguém lá e só levou um minuto pra eu votar. Graças!)
That's it for today. Bye for now!