Hi, everybody! What's up?
Aqui é o Marcelo, e hoje eu trago mais duas expressões de episódios diferentes do seriado Two and a Half Men, e mais uma de bônus. Vejam só onde elas aparecem no vídeo abaixo:
Are you ready? Let's get started!
English version:

Meanwhile in a bar…

Dmitry: Pull up a chair, pal, and let's get ourselves a couple of shots.
Rajid: A couple of shots? It's a school night! Are you crazy?
Dmitry: Hey, just chill… I'll ditch work tomorrow. I'm in no condition to do anything. My girlfriend just left me for my best friend…
Rajid: I'm sorry to hear that… but get over it. Don't carry a grudge, Dmitry! No use crying in your beer.


After many shots…

Rajid: Let's get going, man. I'll give you a ride back home. You're stinking drunk!
Dmitry: Nah…we got all night and you know what, I'll make her pay for this. I can have a mean streak too, pal.
Rajid: Geez, I wouldn't wanna be in her shoes…
Dmitry: Oh yeah! She doesn't know who she's dealing with.

Portuguese version:

Enquanto isso no bar…

Dmitry: Puxa uma cadeira aí, parceiro, e bora tomar umas doses.
Rajid: Umas doses? Fala sério, amanhã tem trampo! Você tá doido?
Dmitry: Fica frio… Eu vou dar o cano amanhã no trabalho. Estou sem condições de nada. Minha namorada acabou de me deixar pra ficar com o meu melhor amigo…
Rajid: Que mal, sinto muito… mas deixa pra lá. Não guarda rancor, Dmitry! Não adianta afogar as mágoas num copo de cerveja!


Após algumas doses…

Rajid: Vamo embora mano. Te dou uma carona pra casa. Você está caindo de bêbado!
Dmitry: Nem… a gente tem a noite toda e quer saber de uma coisa, ela me paga. Também sei ser do mal, parceiro.
Rajid: Meu pai, eu não queria estar na pele dela…
Dmitry: É isso aí! Ela não sabe com quem está lidando.
Key words│Expressions:
• School night ─ Noite que antecede o seu dia de trabalho, ou como nós usamos, "dia de branco". Detalhe: Apesar dessa expressão dar a impressão de ser apenas usada por quem é estudante, ela também passou a ser incorporada por profissionais e não apenas com o intuito de dia de aula. Ou seja: para expressar "Amanhã é dia de trampo", você pode dizer apenas "It's a school night".
Segue mais um exemplo: I had a blast guys, but it's a school night. I have to get up very early tomorrow. (Eu me diverti muito amigos, mas amanhã é dia de branco. Tenho que levantar muito cedo amanhã.)
• Carry a grudge ─ Guardar, carregar rancor/mágoa/ressentimento. Segue mais um exemplo: Life is too short to carry a grudge. (A vida é curta demais para se guardar rancor.)
• Mean streak ─ Tendência, traço, gênio ou lado: mal, perverso, ruim, vingativo, pessoa muito geniosa. Segue mais um exemplo: If I were you I wouldn't do it. My mom has a mean streak. (Se eu fosse você eu não faria isso. Minha mãe é fogo / vai judiar de você.)
É isso aí pessoal, por hoje é só! Take care guys. All the best!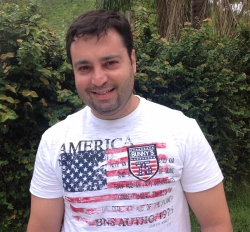 Latest posts by Marcelo - Equipe Inglês Online
(see all)