Nesta dica, você aprende vocabulário sobre signos em inglês e as principais características (traits) de cada um deles, assim como vocabulário sobre astrologia e horóscopo.
Acesso rápido.
Os doze signos
Zodíaco Chinês
Características dos signos
Vocabulário
Frases com tradução
Quiz
O tópico também conta com um quiz no final da dica.
Signos em inglês – Os doze signos do Zodíaco
Clique no player abaixo para ouvir a pronúncia dos doze signos do Zodíaco em inglês:
Aries – Áries
Taurus – Touro
Gemini – Gêmeos
Cancer – Câncer
Leo – Leão
Virgo – Virgem
Libra – Libra
Scorpio – Escorpião
Sagittarius – Sagitário
Capricorn – Capricórnio
Aquarius – Aquário
Pisces – Peixes
Signos em inglês – Signos do Zodíaco Chinês (Chinese Zodiac Sign)
Rooster – Galo
Dog – Cachorro
Pig – Porco
Rat – Rato
Ox – Boi
Tiger – Tigre
Rabbit – Coelho
Dragon – Dragão
Snake – Serpente
Horse – Cavalo
Sheep – Bode ou ovelha
Monkey – Macaco
Signos em inglês – Características dos signos
De acordo com a astrologia, cada signo possui várias características positivas e negativas de personalidade. Veja abaixo as principais características de cada um (leia também mais sobre como descrever a personalidade das pessoas em inglês.)
Positive traits (Características positivas)
Aries – Adventurous, Determined, Courageous, Optimistic (Aventureiro, Determinado, Corajoso, Otimista)
Taurus – Generous, Self-confident, Independent, Reliable (Generoso, Autoconfiante, Independente, Confiável)
Gemini – Versatile, Enthusiastic, Intellectual, Affectionate (Versátil, Entusiasta, Intelectual, Afetuoso)
Cancer – Spontaneous, Creative, Faithful, Emotional (Espontâneo, Criativo, Fiel, Emotivo)
Leo – Loyal, Optimistic, Straightforward, Warm-hearted (Leal, Otimista, Franco, Amável)
Virgo – Intelligent, Reliable, Hardworking, Practical (Inteligente, Confiável, Esforçado, Prático)
Libra – Romantic, Just, Diplomatic, Cooperative (Romântico, Justo, Diplomático, Cooperativo)
Scorpio – Focused, Faithful, Brave, Balanced (Focado, Fiel, Corajoso, Equilibrado)
Sagittarius – Straightforward, Intellectual, Big-hearted, Sociable (Franco, Intelectual, De grande coração, Sociável)
Capricorn – Practical, Disciplined, Patient, Responsible (Prático, Disciplinado, Paciente, Responsável)
Aquarius – Humanitarian, Independent, Intelligent, Loyal (Humanitário, Independente, Inteligente, Leal)
Pisces – Imaginative, Compassionate, Sensitive, Intuitive (Criativo, Compassivo, Sensível, Intuitivo)
Negative traits (Características negativas)
Aries – Impatient, Self-Centered, Impulsive, Short-tempered (Impaciente, Egocêntrico, Impulsivo, Temperamental)
Taurus – Possessive, Stubborn, Unforgiving, Materialistic (Possessivo, Teimoso, Rancoroso – que não perdoa -, Materialista)
Gemini – Inconsistent, Indecisive, Superficial, Anxious (Inconsistente, Indeciso, Superficial, Ansioso)
Cancer – Moody, Pessimistic, Suspicious, Insecure (Temperamental, Pessimista, Desconfiado, Inseguro)
Leo – Arrogant, Stubborn, Headstrong, Possessive (Arrogante, Teimoso, Cabeça dura, Possessivo)
Virgo – Overcritical, Fussy, Conservative, Harsh (Supercrítico, Exigente, Conservador, Severo)
Libra – Indecisive, Superficial, Detached, Self-indulgent (Indeciso, Superficial, Desapegado, Indulgente consigo mesmo)
Scorpio – Jealous, Resentful, Manipulative, Secretive (Ciumento, Rancoroso, Manipulador, Reservado)
Sagittarius – Careless, Impatient, Inconsistent, Over Confident (Descuidado, impaciente, Inconsistente, Superconfiante)
Capricorn – Pessimistic, Shy, Stubborn, Demanding (Pessimista, Tímido, Teimoso, Exigente)
Aquarius – Unpredictable, Detached, Stubborn, Aloof (Imprevisível, Desapegado, Teimoso, Distante ou disperso)
Pisces – Pessimistic, Lazy, Over-sensitive, Wistful (Pessimista, Preguiçoso, Supersensível, Melancólico)
Signos em inglês – Vocabulário sobre astrologia, horóscopo e adivinhações
Alchemy – Alquimia
Ascendant/Rising sign – Ascendente
Astrological elements – Os elementos astrológicos
Astrologer – Astrólogo/a
Astrology – Astrologia
Bad Luck – Azar
Belief – Crença
Birth chart – Mapa astral
Black magic – Magia negra
Cartomancy – Cartomancia (Adivinhar o futuro através de cartas)
Ceromancy – Ceromancia (Prever o futuro através das velas)
Charlatan – Charlatão
Chiromancy/Palm reading – Quiromancia/Leitura das mãos (Interpretação dos sinais das linhas da palma da mão para prever o futuro)
Clairvoyant/Psychic – Clarividente/Vidente
Cowrie-shell divination – Jogo de búzios
Crystal ball – Bola de cristal
Date of birth – Data de nascimento
Divination – Adivinhação
Fate – Destino
Four-leaf clover – Trevo de quatro folhas
Fortune teller – Cartomante/Vidente
Gypsy – Cigano/a
Horoscope – Horóscopo
Horseshoe – Ferradura
Lecanomancy – Hidromancia (Prever o futuro através da água)
Luck – Sorte
Lucky charm – Amuleto da sorte
Magic – Magia
Numerology – Numerologia
Oracle – Oráculo
Personality traits – Características/Traços da personalidade
Phenomenon – Fenômeno
Predict/Foresee the future – Prever o futuro
Prediction – Previsão
Premonition – Pressentimento
Prophet – Profeta
Put a spell on someone – Lançar/Colocar um feitiço em alguém
Rabbit's foot – Pé de coelho
Relationship compatibility – Compatibilidade de relacionamento/amorosa
Ritual – Ritual
Ruling planet – Planeta regente ou planeta que rege o seu signo
Skepticism – Ceticismo
Spell – Feitiço
Supernatural – Sobrenatural
Superstition – Superstição
Superstitious – Supersticioso
Symbols – Símbolos
Tarot – Tarô
The four elements: earth, water, air, and fire – Os quatro elementos: terra, água, ar e fogo
Tell the future – Prever/Adivinhar o futuro
Zodiac signs – Signos do zodíaco
Signos em inglês – Frases com tradução
Clique no player abaixo para ouvir todos os exemplos (as frases em itálico que você vai ler abaixo):
I always look at my horoscope in the newspaper. (Eu sempre olho o meu horóscopo no jornal.)
I don't believe in bad luck. (Eu não acredito em azar.)
Those who are born under the sign of Aries are determined and brave. (Aqueles que nascem sob o signo de Áries são determinados e corajosos.)
I don't believe in astrology. (Eu não acredito em astrologia.)
What is your sign? (Qual é o seu signo?)
My rising sign is Taurus. (O meu ascendente é Touro.)
My father is a Sagittarius. He is a big-hearted man. (Meu pai é de Sagitariano. Ele é um homem de grande coração.)
I had my palms read once by a fortune teller. (Eu tive as palmas das minhas mãos lidas uma vez por uma cartomante.)
I am a Scorpio and my sister is a Cancer. We get along quite well. (Eu sou de Escorpião e minha irmã é Câncer. A gente se dá muito bem.)
Legend has it that Margo was a witch, and she could predict the future. (Diz a lenda que Margo era uma bruxa e conseguia prever o futuro.)
My mother is a Pisces. She is incredibly intuitive and emotional. (Minha mãe é de Peixes. Ela é incrivelmente intuitiva e emocional.)
Those who are born under the sign of Leo are loyal and warm-hearted. (Aqueles que nascem sob o signo de Leão são leais e amáveis.)
My grandmother is a Taurus. She is really stubborn. (Minha avó é de Touro. Ela é bem teimosa.)
What is the best love match for a Libra woman? (Qual o melhor par romântico/par perfeito para uma mulher de Libra?)
Capricorns are responsible and disciplined. (Capricornianos são responsáveis e disciplinados.)
Some people say that Aquarians are shy and quiet, but I don't think that's true. (Algumas pessoas dizem que os Aquarianos são tímidos e quietos, mas eu não acho que isso seja verdade.)
Are you superstitious? (Você é supersticioso?)
I don't believe in horoscopes, but my sister does. (Eu não acredito em horóscopos, mas a minha irmã acredita.)
Aquarians are honest. They would never lie to you. (Os aquarianos são honestos. Eles jamais mentiriam para você.)
My brother is a Gemini and his rising sign is Virgo. (Meu irmão é de Gemeos e o seu ascendente é Virgem.)
Signos em inglês – Quiz
Escolha as alternativas corretas neste exercício sobre os signos em inglês.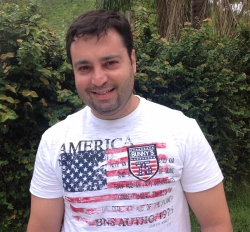 Latest posts by Marcelo - Equipe Inglês Online
(see all)