Hi everyone! Mais um cartoon para exercitar o inglês.
Funciona assim: eu apresento uma imagem com apenas uma fala, faço algumas perguntas, dou um exemplo e vocês usam a imaginação para dar suas próprias respostas em inglês nos comentários.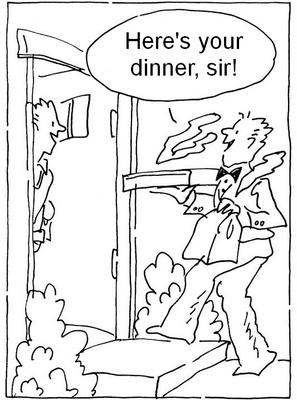 Perguntas
(a) What is being delivered? O que está sendo entregue?
(b) How is the man going to pay for the food? Como o homem vai pagar pela comida?
(c) Who's going to eat? Quem vai comer?
Minhas respostas
(a) A meat loaf and soda. Um bolo de carne e refrigerante.
(b) He's going to use all his coins. Ele vai usar todas as suas moedas.
(c) Just him and a neighbor. Só ele e um(a) vizinho(a).

Aqui está seu jantar, senhor!

E você? Quais seriam as suas respostas?
E aqui vai o PDF com o cartoon da semana passada – Despite the crisis… – com todas as respostas para quem quiser guardar.