Hi everyone! Mais um cartoon para exercitar o inglês. Funciona assim: eu apresento uma imagem com apenas uma fala, faço algumas perguntas, dou um exemplo e vocês usam a imaginação para dar suas próprias respostas em inglês nos comentários.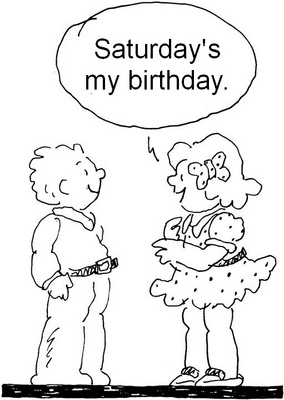 Perguntas
(a) How's she going to celebrate? Como ela vai celebrar?
Rebeca as novas dicas básicas do Inglês Online no seu email!
(b) Why is she telling the boy about it? Por que ela está contando isso ao garoto?
(c) What is he going to do? O que ele vai fazer?
Minhas respostas
(a) Her family wants to take her classmates to an amusement park. A família dela quer levar seus colegas de classe a um parque de diversões.

(b) They are close friends and she needs his family's help to drive all the kids to the park. Eles são muito amigos e ela precisa da ajuda da família dele para levar todas as crianças ao parque de carro.

(c) He's going to talk to his parents. Ele vai falar com os pais dele.
Sábado é meu aniversário.
E você? Quais seriam as suas respostas?
E aqui vai o PDF com o cartoon anterior – Did you read the newspaper? – com todas as respostas (editadas quando necessário) para quem quiser guardar. E parabéns a quem tem deixado respostas