Hi everyone! Mais um cartoon para exercitar o inglês. Funciona assim: eu apresento uma imagem com apenas uma fala, faço algumas perguntas, dou um exemplo e vocês usam a imaginação para dar suas próprias respostas em inglês nos comentários.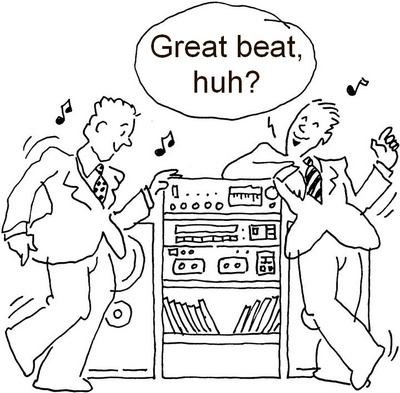 Perguntas
(a) What are they listening to? O que eles estão ouvindo?
(b) How do these guys know each other? Como esses dois se conhecem?
Rebeca as novas dicas básicas do Inglês Online no seu email!
(c) Why are they listening to music now? Por que eles estão ouvindo música agora?
Minhas respostas
(a) They're listening to Ivete Sangalo. Eles estão ouvindo Ivete Sangalo.
(b) They met at an Ivete Sangalo concert in the US. Eles se conheceram em um show da Ivete Sangalo nos EUA.
(c) Because they are planning the soundtrack to a Brazilian party they are going to throw. Porque eles estão planejando a trilha sonora de uma festa "brasileira" que eles vão dar.
Batida legal, hein?
E você? Quais seriam as suas respostas?
E aqui vai o PDF com o cartoon anterior – I've been dancing ballet – com todas as respostas (editadas quando necessário) para quem quiser guardar. E, como sempre, parabéns a quem tem deixado respostas