O professor Rogerio escreveu um post há um tempo sobre livros: gêneros, como você descreveria a estória, que verbos usar, etc.
Para colocar um pouco do que foi apresentado, resolvi hoje falar de um livro que li não faz muito tempo, e que adorei. Eu usei, é claro, vocabulário da lição do Rogerio e basicamente respondi estas perguntas:
What's the book about? Sobre o que é o livro?
Who is the lead character, and what is he/she like? Quem é o personagem central, e como ele/ela é?
How did you like the story? How would you describe it? (boring, interesting, suspenseful, etc.) Que você achou da estória? Como você a descreveria?
Would you recommend this book? Você recomendaria este livro?
How did you get the book? Como você arranjou/comprou o livro?
Aqui vai o meu texto sobre o livro – comentários sobre o vocabulário estão entre parênteses.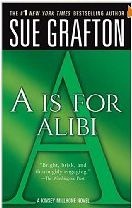 A nice book I read not too long ago (não faz muito tempo) was A is for Alibi, a mystery by Sue Grafton. This book is the first in the so-called (assim chamada) alphabet series written by Grafton – the second one in the series is B is for Burglar, the third is C is for Corpse and so on.

Kinsey Millhone is the lead character: she's a young private investigator who's tough (durona) and independent. The stories are set in the 80s (se passam nos anos 80) and therefore Kinsey has to solve her cases (solucionar seus casos) without any help (sem ajuda nenhuma) from digital devices or the Internet. If you think that makes (se você acha que isso torna) the story boring, you'd be wrong: the book was a real page-turner (livro que você não consegue parar de ler) and once I began reading I couldn't put it down (não conseguia deixar o livro de lado).

It was also a fast read (livro que você lê rápido) – I think I finished it in three days. All in all, I would highly recommend this book to anyone who enjoys a good detective novel. I got the book in paperback through Amazon.com – you can buy a used copy there pretty cheap, and they ship internationally.
Agora, como sempre, é com você: fale sobre o seu livro preferido, ou sobre o último livro que leu, ou até sobre um livro que você detestou! Responda algumas das perguntas acima com suas próprias palavras.
Aguardo!
Faça o quiz: Compreensão de texto: the last page-turner I read