Hi everyone! Mais um cartoon para exercitar o inglês. Funciona assim: eu apresento uma imagem com apenas uma fala, faço algumas perguntas, dou um exemplo e vocês usam a imaginação para dar suas próprias respostas em inglês nos comentários.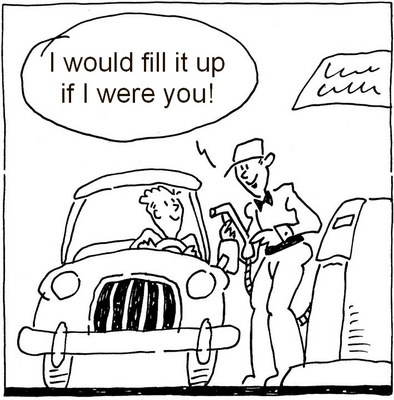 Perguntas
(a) Why did the station attendant say that? Por que o funcionário do posto disse isso?
(b) What is the driver going to do? O que o motorista vai fazer?
Rebeca as novas dicas básicas do Inglês Online no seu email!
(c) Is the driver going to do anything else at the gas station? O motorista vai fazer mais alguma coisa no posto?
Minhas respostas
(a) Because he knows that the station is about to be permanently shut down. Porque ele sabe que o posto está prestes a ser fechado permanentemente.
(b) He's not going to fill up the tank. The gas here is expensive. Ele não vai encher o tanque. A gasolina aqui é cara.
Eu encheria (o tanque) se eu fosse você!
(c) He's gonna use the toilet at the station because he can't hold it in anymore. Ele vai usar o banheiro do posto porque ele não consegue mais segurar.
E você? Quais seriam as suas respostas?
E aqui vai o PDF com o cartoon anterior – Great beat – com todas as respostas (editadas quando necessário) para quem quiser guardar. E, como sempre, parabéns a quem tem deixado respostas