Podcast: Download
Assine: Apple Podcasts | Google Podcasts |
What's up?

Nesse episódio do podcast Inglês Online vamos falar sobre três expressões do inglês muito comuns para descrever ambientes de trabalho (ou ambientes em geral) super competitivos, onde você deve estar sempre alerta se não quiser ser passado pra trás.
Transcrição
Hello, everyone. How's it going? Today we have a new episode of the inglesonline podcast. To download or just listen to other episodes and download transcripts, go to inglesonline.com.br and click Podcast Inglesonline.
So I got my inspiration for today's episode when I read a short paragraph on a public forum that was written by someone who worked for a well-known technology company. I've selected three terms from that paragraph, and they are all very common and kind of interesting. You'll be able to listen to the paragraph that inspired me at the end of this podcast.
So here's the first term: dog-eat-dog. Nope, we don't say "dog eats dog". People say 'dog-eat-dog'. I'm going to exemplify how this expression works as an adjective, and therefore, for our purposes the expression will be hyphenated. It's like when you say "a ten-year-old boy", you know? "Ten-year-old" is hyphenated, and it works as an adjective. We have written about this topic before here at Inglês Online, so make sure to check it out.
But what kind of adjective is 'dog-eat-dog'? What does that expression mean? Let me give you an example of how someone might use it: one day you arrive at the office and you say 'Good morning' to John. He replies: "Are you kidding me? It's not a good morning. This is a dog-eat-dog world". You're kinda taken aback by John's reply, so you ask him what happened. He tells you that he has just been laid off. His boss told him that the intern he has been training for a couple of months is going to fill his position. He's feeling betrayed. So he says "It's a dog-eat-dog world. I've trained this intern and he stole my project and sabotaged my work. Now the boss thinks he's a genius and I'm incompetent!"
So your colleague feels that the intern acted very dishonestly in order to steal his job. This situation illustrates what a dog-eat-dog environment would be: that's when people are really competitive and will do anything to be successful even if what they're doing is harming others. Some industries are said to have dog-eat-dog environments, like investment banking. What do you think?
If you have a job, what kind of industry are you in? Would you describe your work environment as dog-eat-dog, or as relaxed and pleasant?
A dog-eat-dog situation doesn't mean necessarily that people will be dishonest to get what they want, although I would say that… that can happen very often. Another term for such an environment is cutthroat. Cut, throat. Can you imagine what a cutthroat environment is like? That's a very competitive place, where you'd better work hard and be smart and always alert, or else you'll be stabbed in the back.
Stabbed in the back – that is actually our third expression of today, but let me get back to cutthroat. If someone describes their workplace as cutthroat, you can pretty much assume that this is not a place where people will be super nice and understanding all the time. It's a place where people are very competitive and will do whatever it takes to get ahead. It's the kind of environment where people never let their guard down because if they do, they may very well lose their job.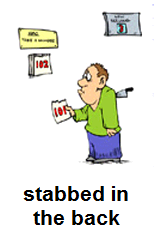 So dog-eat-dog and cutthroat are two terms that often go hand-in-hand. One thing that seems to be common in dog-eat-dog, cutthroat businesses is people stabbing other people in the back. Not literally, of course… But, let's say you're literally stabbed in the back. You can't see the aggressor, right? You are caught by surprise and you don't have enough time to defend yourself. So figuratively speaking, you can imagine what that means in a business environment.
You will usually use that term when someone you trusted does something to harm you, whatever that may be, and you feel betrayed. It's a really strong expression.. this is not for the silly stuff. Someone you consider a friend, for example, might steal your ideas and leave you with nothing, and then you say "Michael stabbed me in the back". Someone else who you trusted with a secret goes to your boss and tells the boss everything you had told her in confidence. You get fired, and you could say "She stabbed me in the back".
Alright, so here's the paragraph that inspired today's episode, with all three terms in it:
I used to work at this company but I left 4 years ago. Part of the reason I left was that the environment inside the company is dog-eat-dog. For each person who gets a "good" performance review, an equal number of people must receive a "bad" performance review. This leads to cutthroat internal competition, a lack of empathy or friendship in the office, and generally an unfriendly environment. The benefits are great, the pay is great, but the people you work with are definitely out to stab you in the back.
OK, give us your example in the comments. Have you ever worked for a cutthroat, dog-eat-dog business? Talk to you next time!
Key expressions
dog-eat-dog
cutthroat
stab someone in the back (= puxar o tapete de alguém)
Glossary
taken aback = surpreso, confuso
understanding (adjetivo) = compreensivas
whatever it takes = o que for preciso
to get ahead = pra ir pra frente
never let their guard down = nunca baixam a guarda
go hand-in-hand = aparecem juntas
Latest posts by Ana Luiza
(see all)