Podcast: Download
Assine: Apple Podcasts | Google Podcasts |
How's it going? Nesse episódio do podcast Inglês Online eu falo sobre expressões em inglês com a palavra bear.
Transcrição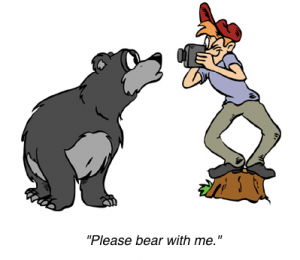 Hey, what's up? Today we have a new episode of the inglesonline podcast. To download or just listen to other episodes and download transcripts, go to inglesonline.com.br and click Podcast Inglesonline.
Today I'm going to talk about a couple of expressions with the word BEAR. Of course, a bear is a wild animal, as you probably know. Remember Zé Colmeia, also known as Yogi Bear in English-speaking countries? So, that's a bear and I'm not really going to focus on this particular meaning of the word BEAR for this podcast.
Did you know the word BEAR had other meanings? Here's a very common expression: bear with me. That means "be patient", just stay with me and wait while I finish this thing I'm doing, or… please stay here and listen to this story I'm telling you because I do have a point and I am getting somewhere with this. Please bear with me.
How do we say that kind of stuff in Brazil? What comes to my mind is something like "Guenta mão aí"…. only "guenta mão" is really informal language, right? "Bear with me", on the other hand, is not a slang expression. You could use it in a presentation or with your colleagues at work without a problem.
When I think of this expression, the first thing that pops in my mind is someone telling another person a story, and it's sort of a long -winded story and the listener is getting kind of impatient. So the one who's telling the story suddenly realizes that it may take them a while to get to the point they wanna make, and they say "Please bear with me; I'm gonna get to the point" or just "Bear with me; I'm getting there".
How would you say "Bear with me" in Portuguese? Let us know in the comments, and leave your examples as well.
And here's another common expression with the word BEAR: Bear in mind. That means… remember this piece of information, keep this in mind when you're making a decision related to this issue, or when you're taking action… bear in mind that we're not going to lend you any money. Bear in mind, remember, keep in mind. Bear in mind that it is usually really cold where you're going so a bicycle may not be your best choice to get to work. Here's an example I found on Twitter: "You have to bear in mind that there's no treatment for dengue". So the person who posted that is advising other people to remember, to keep in mind that there's no treatment for dengue. Bear it in mind. Bear in mind that there's no treatment. By the way, is that true? I know it's a serious illness, but I thought there was a treatment.
Anyway, another person tweeted this: Bear in mind that nobody's perfect. Basic, simple piece of advice, right? So bear this in mind: nobody's perfect. There's something useful to bear in mind for the rest of our lives, don't you agree?
As you listen to this podcast, bear in mind that it is intended for people on an intermediate comprehension level. As both a Portuguese speaker and an English learner, I think you should bear in mind that it'll take you a while to get used to the sounds of English. Also, bear in mind that understanding a podcast is different from being able to speak it, so… listen, listen, listen and give yourself the chance to effortlessly absorb some English. That's my piece of advice for you today!
Talk to you next time.
Key expressions
bear with me
bear in mind (that)
Glossary
also known as = também conhecido como (essa expressão frequentemente é dita abreviada em forma oral, na conversa mesmo – a.k.a)
I do have a point = tem um lugar onde estou querendo chegar (com o que estou dizendo); vou chegar a uma conclusão, demonstrar algo, etc.
I am getting somewhere with this = vou chegar em alguma conclusão; o que eu estou dizendo faz parte dos passos pra chegar à conclusão
a long-winded story = uma história em que a pessoa dá voltas, conta muitos detalhes, demora pra chegar à conclusão
to make a point = defender uma ideia, comunicar uma ideia específica, declarar algo
it may take them a while to = vai levar um tempinho pra ele/ela