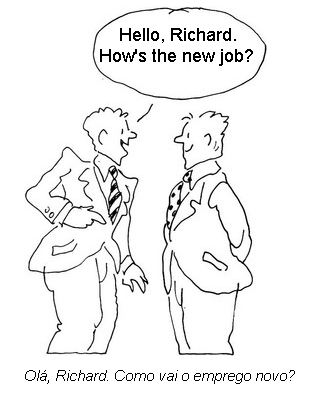 Hi, everybody! Hoje temos mais um post da série Inglês com Cartoons, e no de hoje, como sempre, temos uma imagem com uma fala, perguntas e um exemplo. Você usa a imaginação para dar suas próprias respostas em inglês nos comentários.
Perguntas
(a) What does Richard think about his new job? O que o Richard acha de seu novo emprego?
(b) What did he use to do before? O que ele fazia antes?

(c) Who's the other guy? Quem é o outro sujeito?

Minhas respostas
(a) He's very excited about it: he's teaching cooking classes at a local college and he loves it. Ele está super animado: ele está dando aulas de culinária numa faculdade local e está adorando.

(b) He used to work as an architect. Ele trabalhava como arquiteto.
(c) That's his old boss at the architecture firm. É seu antigo chefe na firma de arquitetura.

E você? Quais seriam as suas respostas?
E aqui vai o PDF com o cartoon anterior – Go get your brother – com todas as respostas (editadas quando necessário) para quem quiser guardar.