Hi everyone! Mais um cartoon para exercitar o inglês.
Funciona assim: eu apresento uma imagem com apenas uma fala, faço algumas perguntas, dou um exemplo e vocês usam a imaginação para dar suas próprias respostas em inglês nos comentários.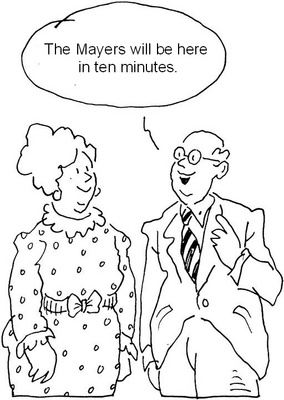 Perguntas
(a) Who are these two? Quem são esses dois?
(b) Why are the Mayers coming to visit them? Por que os Mayer estão vindo visitá-los?
(c) What are they going to talk about? Sobre o que eles vão conversar?


Minhas respostas
(a)
They're siblings: Mary (Tyler) Moore and Tony Tyler. Eles são irmãos: Mary (Tyler) Moore e Tony Tyler.
(b)
Because they're interested in buying a house that belongs to the Tylers. Porque eles estão interessados em comprar uma casa que pertence aos Tyler.
(c)
They're going to talk about money. Eles vão falar sobre dinheiro.
Os Mayer vão estar aqui em 10 minutos.

E você? Quais seriam as suas respostas?
E aqui vai o PDF com o cartoon da semana passada – Say cheese! – com todas as respostas para quem quiser guardar.