Hi everyone! Mais um cartoon para exercitar o inglês. Funciona assim: eu apresento uma imagem com apenas uma fala, faço algumas perguntas, dou um exemplo e vocês usam a imaginação para dar suas próprias respostas em inglês nos comentários.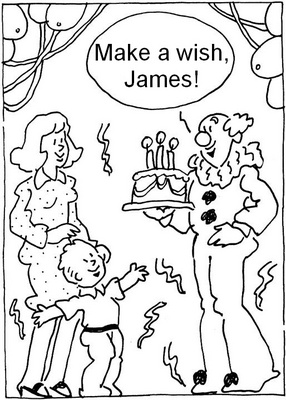 Perguntas
(a) Who's at the party? Quem está na festa?
Rebeca as novas dicas básicas do Inglês Online no seu email!
(b) What gifts did James get? Que presentes o James ganhou?
(c) What food is there? O que tem de comer?
Minhas respostas
(a) All of James's thirty cousins. Todos os trinta primos do James.
(b) He got clothes, five toy trucks and a computer. Ele ganhou roupas, cinco caminhões de brinquedo e um computador.
(c) His family is vegetarian, so there are carrots, cucumbers and broccoli. A família dele é vegetariana, então tem cenoura, pepino e brócolis.

Faça um pedido, James!
E você? Quais seriam as suas respostas?
E aqui vai o PDF com o cartoon anterior – You're safe now – com todas as respostas (editadas quando necessário) para quem quiser guardar. E parabéns a quem tem deixado respostas – as últimas foram great!