O podcast de hoje fala sobre a expressão ring up.
Transcrição
Hi, what's up? This is Ana Luiza with a new episode of the inglesonline podcast. To download or just listen to other episodes and download transcripts, go to inglesonline.com.br and click Podcast
Inglesonline.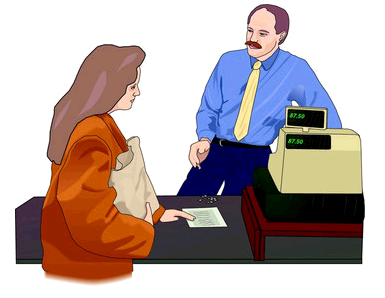 Last week I took a little vacation and spent a week in New York City. This was my first time back in New York City after ten years. And, of course I thought of Inglês Online and Inglês Online readers while I was there and… There are gonna be some pretty nice surprises for readers in the next few months. So sit tight, stick around and enjoy the blog in the meantime.
Today I wanna talk about an expression I heard a lot while I was shopping. Guess what it has to do with? It has to do with paying for something at the cash register of a store. I heard it on my first day in New York, when I went to an electronics store to buy an mp3 player.
So the store clerk pointed me to the player I wanted and when I said "I'll take it", she said "OK. I'll get you rung up". Again, she said "I'll get you rung up". So just to recap, here's a little grammar for you: the word "rung" I just used… that's the past participle of "ring", r-i-n-g. So, it's ring, then the past form is rang, r-a-n-g, and the participle is rung, r-u-n-g.
So the participle is what I'm using… is what the store clerk used when she said "I'll get you rung up".
Again: the way she said it, "I'll get you rung up", can't really be translated in a literal way into Portuguese, so I'll give you a few alternatives that mean the same thing. The store clerk could have said "OK, I'll ring you up now" or "I'll ring that up for you". "that" is the mp3 player, right? "I'll ring that up for you".
So, what does that mean… "I'll ring you up" or "I'll ring that up for you"? That usually means you and the store clerk will walk over to the cash register, and then the clerk will record the sale, and let you know what the total is, and then you give them the money, or your credit card… And after charging you, the clerk will give you a receipt, which is your proof of purchase. So that's what "I'll ring you up" or "I'll ring that up for you" means.
So you go into a store, and after you're done selecting the items you wanna buy, you may walk over to a cash register so that a clerk can ring you up. Or maybe the store guy has just helped you find what you were looking for, and he says "I'll ring you up when you're ready". That means he knows that you may want to look at other stuff to buy but, when you're done, you can just let him know you're done and he will ring you up.
Like I said before, the clerk may also say "I'll ring that up for you". Let's say the store guy sees you hanging around the store with three mp3 players in your hands. He may ask you "Is that all?" and if you say yes, he may say "I'll ring those up for you". By 'those', he means 'those three mp3 players'.
The first time I heard the expression "ring you up" or "ring something up" was on ESL Podcast. Here's the web address: eslpod.com. Go over to their website and type the word "ring" into the search box and you'll see a list of all podcasts that include this word. I think there are at least four podcasts with the expression "ring something up".
So next time you're in a store or restaurant, and someone says I'll ring that up for you… you know what they're talking about.
OK. Changing topics: I'd like to suggest a reading to you guys. It's a post by Denilso de Lima, and it's called Preocupações com a Pronúncia em Inglês. Just go there and read it. Of course we all want to speak well and be understood, right? For example, if you think the past form of 'bring' is 'bróguiti', you'd better go to thefreedictionary.com or some other place where you can hear the right pronunciation. And then just go do a lot of listening to help you internalize that and other words, because that kind of mispronunciation can harm your communication. But sometimes people can get caught up in stuff that, in my experience, really doesn't make any difference practically speaking, such as how to pronounce 'man', singular, versus 'men', plural. So just go over to Denilso's blog and read that post and see what you think.
Alright, that's all for today. Talk to you next time!
Key expressions
I'll ring that up for you
I'll ring you up now
Glossary
sit tight = (um dos significados) espere um pouco, aguarde
stick around = fique por aqui
in the meantime = enquanto isso
it has to do with = tem a ver com
harm = prejudicar
caught up in stuff = se prender a certas coisas (geralmente detalhes)