Hoje falamos sobre como você se arrisca se não diversificar suas opções, e sobre a possibilidade de as pessoas mudarem.
Transcrição
Hey, everybody! What's up? This is Ana Luiza, with a new episode of the inglesonline podcast. To download or just listen to other episodes and download transcripts, go to inglesonline.com.br and click Podcast Inglesonline.
OK, think about this: you just graduated from high school and you're trying to get into college XYZ. You want college XYZ because it's the college your parents went to and you think it's the best college in the world. So you're not applying to any other schools. The only school, the only college you are interested in is college XYZ. You're not even gonna try other schools. That's risky, right? That's a risky thing to do. If college XYZ doesn't accept you, you will have to wait a whole year in order to be able to apply for college again. That would be similar in Brazil to taking the Vestibular exam to only one college or University. If you pass, great; if you don't, you'll have to wait until the next round of Vestibular exams to try again.
So many people would consider that a risky thing to do. So… you know what you're doing, when you do this? You're putting all your eggs in one basket. Someone might tell you "Are you crazy? Don't put all your eggs in one basket! I know college XYZ is your favorite, but you should also try college ABC and college FGH!" Don't put all your eggs in one basket.
Another example… Let's say you hired someone to organize the Christmas party at your office. You've never heard of this person before but you spoke to her on the phone and she seemed nice. She is going to take care of the food, the decoration and the music. Everything. So you tell your boss that you hired this person to do everything, and he says "Are you sure you wanna have all your eggs in one basket like that? Why don't you hire someone else to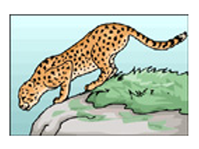 take care of the decoration, and another person to handle the music? I mean, you don't even know this person, and she's responsible for everything! It's too risky". So you think about it, and you realize that it's true, you really are putting all your eggs in one basket by hiring only one person to handle all aspects of the Christmas party. And what's worse, she hasn't been recommended by anyone… you got her number off the yellow pages.
And here's a saying I heard the other day: a leopard can't change its spots. Look at the picture: do you see the leopard? Leopards have black spots all over their bodies. They're covered in spots. So, the saying goes "A leopard can't change its spots". What does that mean? Basically, that means that people don't change, or people can't change. So it's very common to hear that saying when, for example, you were expecting someone to behave differently from the way they usually do. For example, sometimes a woman complains that her boyfriend or husband has cheated on her for the third time, and then someone will say "Hey, what did you expect? A leopard can't change its spots". So, if the guy cheated before, of course he's going to cheat again. A leopard can't change its spots.
What do you think? Not necessarily in regards to cheating, but in general: do you think it is true that people can't change? Do you agree with this saying "A leopard can't change its spots"? My opinion is, it depends. I certainly think it is possible to change. It is possible for people to change, to modify their behavior for various reasons. So I think that a leopard can change its spots. A figurative leopard, of course! Not the animal. Sure, sometimes people exhibit the same behavior all their lives… they do the same thing over and over again. But that's not always the case. So, this saying… A leopard can't change its spots? I think sometimes it applies, but most of the time, to be honest, I don't think it does.
What is your opinion? Do you agree that a leopard can't change its spots, or do you have an interesting story to tell us about how someone really changed their behavior? Let us know in the comments. Talk to you next time!
Não perca nenhum episódio do Podcast
Key expressions
all your eggs in one basket
a leopard can't change its spots
Glossary
what's worse = o que é pior
off the yellow pages = a partir das páginas amarelas
a saying = um ditado