Hi, everyone. What's up?

Nesse episódio do podcast Inglês Online eu falo sobre duas expressões com keep, e mais uma super informal e coloquial.
Transcrição
Hello, all. How's it going? Today we have a new episode of the inglesonline podcast. To download or just listen to other episodes and download transcripts, go to inglesonline.com.br and click Podcast Inglesonline.
Today we have two expressions with the word KEEP, and a third expression that doesn't have the word keep. These are all very, very common terms in everyday conversation, so let's get to know them and see how you can use them. The first one has to do with remembering something.
Let's say that you're on your way to someone's dinner party with a couple of friends. You say "I heard Cindy is a fantastic cook! Can't wait to try her food. I'm starving!" and one of your friend replies "I'm not sure who's cooking tonight. It could be her sister Mindy, who is NOT a good cook! So, keep that in mind". What does that mean? That means "keep in mind that Mindy may be cooking, not Cindy". Remember, as you're about to eat, that the person who made the dishes may not be Cindy, who is a fantastic cook, but Mindy, who's… not that great a cook. Keep that in mind. Remember that. Keep in mind that the food may not be as good as you expect.
More examples? Imagine that you just moved to the United States and you're on your first day on a new job. Your boss, who's also Brazilian, but likes speaking English with you, says "Now that you work for an American company, keep in mind that being late for meetings and presentations is a no-no". What is "a no-no"? That's something people are not supposed to do. They shouldn't do it. If something is a no-no, just don't do it. Avoid it. In general, if you do something that is considered a no-no, you'll attract a lot of attention upon yourself, or you will be reprimanded in some way, or you will get a fine… you get the idea.
So what is your Brazilian boss telling you? He's telling you to keep in mind, to always remember that being late for work meetings and presentations is a no-no. Keep that in mind! Always keep that in mind. In Brazil we are usually more tolerant of lateness than Americans, so, actually if you're thinking about moving to the US, keep that in mind: lateness is not as well tolerated in the USA as it is here. It's a no-no in that country.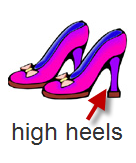 So, what kind of behavior would be considered a no-no in Brazil? Wearing high heels to the beach comes to mind. I think wearing high heels to the beach is definitely a no-no. I mean, you're not breaking any laws if you do it, but it's probably going to be very unconfortable and the sand may ruin your shoes, and… high heels are definitely not suited for the beach. So, I think wearing high heels to the beach is a no-no. You would have to be crazy to do that. You shouldn't do it. Going to a meeting with your company's CEO wearing shorts and Havaianas is a no-no. Don't do that! That's a big no-no. That shows lack of respect and professionalism, and depending on the company it may get you fired.
Our last expression for today is an interesting one… another set phrase with the word keep. Let's say you and your teammates are at a meeting with the VP of Marketing discussing a project in order to get her approval. She gives her approval and then says "This project will directly impact our marketing strategy so I need to be informed of everything that's going on with it. Please keep me in the loop" So the VP of Marketing is asking you guys to keep her in the loop. Please keep me informed of everything, let me know what's going on, cc me on the emails, keep me in the loop. To keep someone in the loop means to make sure that this person is kept informed about all the news related to something.
Maybe you're chatting with your two friends Mary and Jane about going to Mexico for a week next month. Mary is very excit ed; she's game, she's definitely going to Mexico with you. Jane isn't so sure because she doesn't know whether she'll be able to get a few days off next month. She really wants to go, though, so she says "Guys, I really wanna go to Mexico so please keep me in the loop". That means "When you exchange emails, cc me. When you start looking at hotels and plane tickets, I wanna know all about it. If you meet again to discuss the trip, let me know and I'll come too. Please keep me in the loop" Jane isn't sure she's going to Mexico, but she wants her two friends to keep her in the loop.
So give us your examples of no-nos, in your opinion. Is going to a birthday party without a gift a no-no? Is being late a no-no? Let us know in the comments. Talk to you next time!
Key expressions
keep in mind that
a no-no
keep someone in the loop
Glossary
comes to mind = é algo que vem à mente, é um exemplo que me veio
get a fine = levar uma multa
sandy = com areia, cheia de areia
she's game = ela está dentro
cc (someone) = carbon-copy someone on an email, so that they'll get the message even though they're not the main recipient
[audio:http://media.blubrry.com/podcast_ingls_online/www.inglesonline.com.br/mp3/podcast-keep.mp3]