Hello, all. Hoje minha voz está diferente por causa de um resfriado… Nesse episódio do podcast Inglês Online eu falo sobre duas experiências que eu tive quando dividi uma corrida de táxi com outra pessoa.
Transcrição
Hi, everyone. How are you? Today we have a new episode of the inglesonline podcast. To download or just listen to other episodes and download transcripts, go to inglesonline.com.br and click Podcast Inglesonline.
So a couple of weeks ago I got off a plane at Guarulhos airport, near São Paulo. For those of you who don't know, there's a bus called Airport Service that will take you from the airport into the city (the city of São Paulo) for… thirty something reais. I'm not promoting this bus service and, for the record, I still think it's expensive, but it sure beats the hundred reais or so you'll pay to cab it to São Paulo.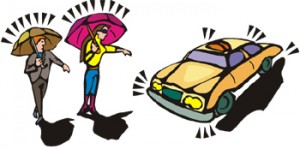 Anyway, I got off the plane, went through Customs for the passport check and picked up my two bags at the baggage claim area. Once I got out of the building, I headed straight to the bus ticket office. It was around 11 in the morning, and I was anxious to hop on the bus and get home. Then I heard the guy in front of me ask the sales assistant when the next bus was leaving. "In one hour and thirty minutes", she said. Oh, oh… one hour and thirty minutes? The guy thanked the woman and turned around to leave the office. I did the same thing… I wasn't about to stay there for ninety minutes waiting for a bus.
Then it occurred to me that that guy and I were standing in the same line, which meant he wanted to buy a ticket for a bus that would pass through my neighborhood. So if he and I were headed in the same direction, why not share a cab? I tapped the guy on the shoulder and asked him if he was going in the general direction I was going. He said he was, and then I asked him if he would like to share a cab. He immediately agreed, and we walked to the little cab booth in order to pay for the fare in advance.
So we took care of that, and then got into the line of passengers who were waiting for a cab. Not two minutes had passed before we were on our way home. We began to chat and I found out this guy was a publisher from Espírito Santo and he was in São Paulo to take care of some business. He was actually just starting out in the publishing business and he said he'd been keeping an eye out for work that would be a good fit for his publishing company.
So after we dropped him off, I asked the cab driver if it was a common thing for people to share a cab from the airport into São Paulo. I was totally expe cting the driver to say 'yes'. I mean, the cab fare from Cumbica to São Paulo is over a hundred reais… Come on! That's more expensive then some airfares for local travel inside Brazil. So I was surprised when the cab driver said "No, it's not common at all for strangers to share cabs." I asked him why he thought that was the case and he said that people were suspicious and scared, and they'd rather pay full fare than share the cab with a stranger.
When I heard that, I remembered something that happened in Rio de Janeiro not too long ago. I was leaving an event and I couldn't get a cab… There were tons of people competing for a cab and even if you called a company on the phone it was no guarantee you'd get one. Finally I spotted a girl nearby hailing a cab, and when she was about to get in I asked her where she was headed to. It turns out she was going somewhere not too far from my final destination, and so I asked her if we could share. She kinda nodded and I got in the cab right behind her.  After five minutes in the cab, the girl looked at me and said "So… what is it that you wanted to to? Are you getting a free ride here?" And then it dawned on me that the girl had no idea why I had asked her to get in the cab. I explained to her that I had been trying to hail a cab for a while without luck, and I thought that since she and I were heading in the same direction we could share the fare. Her expression changed when she understood and she let out a sigh of relief. I apologized to her for not making it clear that I wanted to actually share the cost of the cab and she said it was OK.
So… what is your opinion on this subject? Would you share a cab with a stranger in order to split the cost? Would you be a little suspicious or even scared if someone approached you and asked to share the ride? Let us know in the comments, and I'll talk to you next time.
Glossary
thirty something reais = trinta reais e pouco
it sure beats = com certeza é melhor que
cab it to (some place) = ir de táxi até (algum lugar)
hop on = subir (no ônibus, no trem), entrar (no ônibus, no carro, na moto)
keeping an eye out for = de olho em
be a good fit for = se encaixar bem
where she was headed to = pra onde ela estava indo
she kinda nodded = ela fez meio que sim com a cabeça
hail a cab = chamar um taxi fazendo sinal (= flag a taxi)
it dawned on me = eu percebi, eu vi que
a sigh of relief = um suspiro de alívio
[audio:http://media.blubrry.com/podcast_ingls_online/www.inglesonline.com.br/mp3/podcast-cab.mp3]