Hi, everyone! No cartoon de hoje, como sempre, temos uma imagem com uma fala, perguntas e um exemplo. Você usa a imaginação para dar suas próprias respostas em inglês nos comentários.
Perguntas
(a) Who's the woman holding the mirror? Quem é a mulher segurando o espelho?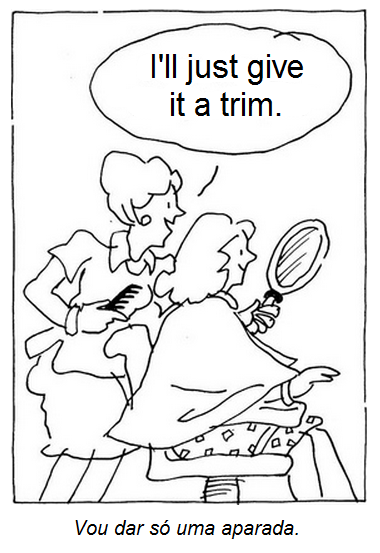 (b) Why is the other woman getting a haircut?  Por que a outra mulher vai cortar o cabelo?

(c) Will she be happy about the haircut? Ela vai gostar do corte?

Minhas respostas
(a) She's the other woman's neighbor. She offered to give her hair a trim. Ela é vizinha da outra mulher. Ela se ofereceu para dar uma aparada no cabelo dela.

(b) Just because she does it every four months or so. Simplesmente porque ela faz isso a cada quatro meses.
(c) She'll be neither sad nor happy. She's concerned about other stuff and isn't very focused on her hair. Ela não vai nem gostar nem não gostar. Ela está pensando em outras coisas e não está muito ligada no cabelo.

E você? Quais seriam as suas respostas?
E aqui vai o PDF com o cartoon anterior – I'm starving – com todas as respostas (editadas quando necessário) para quem quiser guardar.