Hello, all. Nesse episódio do podcast Inglês Online eu vou falar sobre uma coisa que aconteceu comigo aqui em Londres. Repare em como eu uso WOULD para descrever um hábito passado!
Transcrição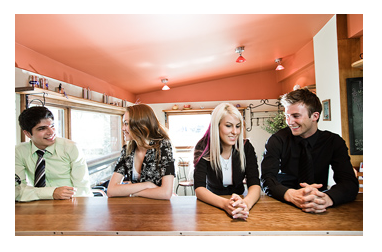 Hey, how's it going? Today we have a new episode of the inglesonline podcast. Please subscribe to this podcast using the Podcasts app for iPhone or iPad, or listen to the episodes using the Inglesonline Android app.
Let me tell you a story today… unfortunately it's something that actually happened. Why do I say "unfortunately"? You'll see. So one of the first things I did after I moved to England was to get a mobile, or a cell phone. In order to do that, first I had to open a bank account. I wanted to buy a two-year contract so that I could get the phone at a discount. It's the same thing in Brazil:  when you get an unlocked mobile, you pay full price. If you get a contract, usually for two years, then you get a discounted phone.
So I opened a bank account and then went to the phone shop and got myself a brand new phone with a two year contract. OK, so if you've been following Inglês Online for a while you know that I'm a podcast freak and you also know that I like going to a cafe with my laptop computer to work while I enjoy a cup of coffee. So there's the setting for this story: I was at a Starbucks, working on my laptop. It was a Friday afternoon and the place was really busy. I was sitting at a table which is sort of a long, communal table- which means that many people can sit around it to have their beverage, or work or chat with a friend and so on.
So here's what used to do: I would have my laptop right in front of me, and then I'd have my mobile sitting next to my laptop. The reason why I used to leave my mobile there was that it was very easy to check email from all my accounts by pressing just a couple of keys on the cell phone. So every twenty minutes or so I would go to my cell phone and check email. Very easy and convenient. Until that Friday…
There I was, very focused on some article I was reading, when two women approached the table and sat right across from me. The one in front of me put a map on the table, while the other one put a magazine next to the map. They started speaking to me in a low voice and in a language that was completely foreign to me. I thought they were begging for money or something. I kept saying "No, no" and they kept pretending they were trying to communicate with me. They even looked at each other as though they were trying to figure out what to say. After a minute or two, a Starbucks worker told them they could not stay inside to beg, and they left.
It took me about a minute to realize that when the woman in front of me pulled the map, she pulled my phone as well, which was under the map. I told the Starbucks girl what happened and she said that every week someone has their phone stolen. I left the cafe wondering why there were no surveillance cameras inside the shop, and then I walked around for five minutes trying to find the women, but no luck. Next, I went to the nearest Police Station to file a report. A police officer said that mobile theft is one of the most common types of crime in London. It's a huge city with tons of people, both from England and from every country in the world you can imagine. You really can't be too careful in this city when you're out in the street or… anywhere, really! In the two months I've been here, I've already heard quite a few stories from people who have had their phones or backpacks stolen in a shop or in a department store. Just yesterday, a guy I know had his backpack stolen in a pub. So here's my piece of advice to you if you're coming to London or any other big city – and, unfortunately, it's first-hand advice: never leave your stuff unattended. These thieves are pros, they know what they're doing and they only need a few seconds to act. Sometimes you turn your head to speak to someone for ten seconds, and before you know it your bag is gone. That's how it is for now, so it pays to keep your belongings in sight at all times.
Have you had a similar experience? Tell us in the comments and talk to you next time.
Glossary
an unlocked mobile = um celular desbloqueado
a podcast freak = uma pessoa louca por podcast
begging for money = pedindo (mendigando) dinheiro
theft = roubo (de algum objeto, dinheiro, etc)
you really can't be too careful = todo cuidado é pouco
leave something unattended = deixar algo fora da sua vista
pros = profissionais
it pays to = compensa (fazer algo)
keep your belongings in sight = manter seus pertences dentro do seu campo de visão
[audio:http://media.blubrry.com/podcast_ingls_online/www.inglesonline.com.br/mp3/podcast-theft.mp3]