Podcast: Download
Assine: Apple Podcasts | Google Podcasts |
Hello, all. Nesse episódio do podcast Inglês Online eu vou falar sobre o verbo wear, e uma expressão com esse verbo que ouvi de uma australiana. Enjoy!
Transcrição
Hey, how's it going? Today we have a new episode of the inglesonline podcast, and to get started, let me fill you in on the context for today's first expression. So I live in a shared house, and I have a live-in landlady. What's a shared house? That's easy: it's a house you share with other people. That means you're not the only person living there. You've probably got one or more roommates, or housemates. The literal meaning of the word roommate is, someone who shares a room with you.
This word roommate is, however, sometimes used for people who just share a house with you; not necessarily a bedroom. Now, housemate or flatmate are more appropriate, I guess, for the people who live in the same house you live. So, currently, I have a total of four housemates if I count every single person living in the house. There's a couple from Australia, there's a guy from London and then there's the landlady. That's the second time the word 'landlady' has come up in this post, so for those of you who don't know what it means…
'Landlady' is the owner of the house or apartment you live in. If that was a man, the word would be landlord. I haven't looked into the origin of such terms, but to me they sound like something reminiscent of the middle ages, when people owned a lot of land and other people paid them and got to live in a piece of that land.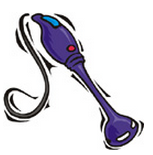 Anyway, yesterday I was in the kitchen making juice. I added several pieces of fruit to a bowl, plus juice and some spinach, and then before I fired up the mixer I covered the front of my shirt with a dishcloth. Kate, my Australian housemate, saw that and asked, jokingly: "Occupational hazard?" By the way, an occupational hazard, as applied to an actual job or professional activity, would be any situation in that job that could potentially cause injury or illness. Kate was, of course, joking, since I wasn't working but just making juice. The joke made sense, though, since there was a strong possibility that once I fired up the mixer, some juice would splash on my shirt.
Alright. So I made the juice and in the meantime, Kate left the kitchen. She came back later, when I was washing the bowl, and then she asked "So, did you wear any?" And that's our expression for today: she asked me if I wore any juice. So before we really get into this expression, let's take a closer look at the verb "to wear". It would be incorrect to always translate wear as "vestir". Why is that? That's because in Portuguese we say "vestir" when we're talking about clothes only. In English, people say ' wear ' for lots of things that you put on your body to cover it, like clothes… or glasses, or a mask. Or you're putting these things on your body because you think they'll make you prettier… like makeup, or earrings or a necklace. We also say ' wear ' for shoes. So those are different from what we say in Portuguese, right? I'm wearing brown shoes right now, I'm not wearing any makeup, and… I rarely wear my glasses. What about you? How often do you wear makeup? Do you wear glasses to watch a movie? What kind of shoes do you wear at night?
So the expression that my Australian housemate used was kinda funny because she wanted to know if I was wearing any juice. In other words, she wanted to know if juice had splashed on my shirt. So when she asked me that, I said that I didn't get her question and then she gave me more examples – she said that often, when she eats spaghetti in tomato sauce, her mother will ask "So, are you wearing any?" Or Kate herself will look down at her shirt and see that she got some tomato juice on her shirt and she'll say "Damn it, I'm wearing the sauce".
So I'll be very honest with you. By the time I'm finished eating pasta or anything that could splash on my shirt, like ice cream, I'm usually wearing it. Red sauce, salad dressing, soup, ice cream, yeah. By the time I'm done eating that stuff, I'm wearing it. What about you? Are you the kind of person that's super careful? Or are you just like me? Let us know in the comments and talk to you next time.
Key expressions
Glossary
look into (something) = pesquisar, tentar descobrir mais sobre (algo)
fill you in on (something) = te contar, te atualizar sobre (alguma coisa) [pela conversa, fica claro o que é essa "alguma coisa"]
fire (something) up = iniciar, ligar (um aparelho, o navegador/browser, um programa, etc)
dishcloth = pano de prato
I didn't get her question = eu não entendi a pergunta dela