Hello, everyone,
Mais um aviso público no metrô me inspirou – hoje, a dica é para reforçar um assunto do inglês que eu quase nunca vejo ninguém usar direito. Do que estou falando? Bom, o título já entrega, é claro. Mas dê uma olhada na frase da parte amarela na foto abaixo: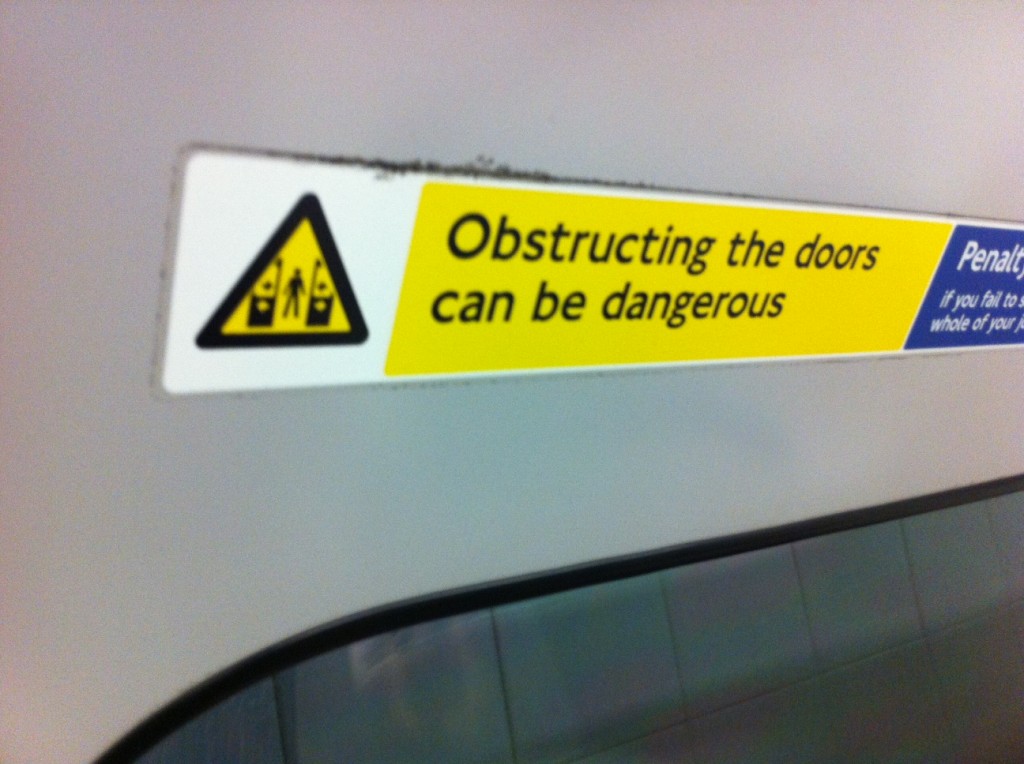 Obstructing the doors can be dangerous [Obstruir as portas pode ser perigoso]
O que pode ser perigoso (na frase acima), gente? "Obstruir as portas"; é ou não é? "Obstruir as portas" é o sujeito da frase. Não vou entrar nesse tópico novamente porque já falei sobre ele na dica sobre o uso da forma -ING como sujeito. Nessa outra dica, eu expandi um pouco a explicação e dei exemplos do uso da forma -ING como substantivo em qualquer lugar da frase. Recomendo que você leia essas duas dicas antes de prosseguir :)
Como falei ali no início, eu não vejo (ou ouço) muita gente no Brasil usando isso. Não ouço mesmo, e isso me faz querer continuar com os exemplos e atividades para que você se familiarize cada vez mais com essa estrutura que não é nem um pouco intuitiva para nós… Mas que, como tudo, torna-se natural com a exposição continuada. Ou quando você tinha 2 anos de idade você conseguia explicar o que quer dizer "tanto faz"? Não, né? E pensar que hoje em dia você usa essa expressão sem pensar duas vezes… Que coisa!
Tendo lido as duas dicas recomendadas ali em cima (pre-requisite!), vamos usar um pouco a estrutura ali da foto. Depois que você compreendeu que "Obstructing the doors" é o sujeito e quer dizer "obstruir as portas", fica bem fácil entender porque dá para traduzir o can ali como "pode" mesmo. "Obstruir as portas pode ser perigoso".
Aqui vão mais exemplos meus – leia com atenção e identifique as atividades de que estou falando. Os sujeitos das frases estão em maiúsculas:
CROSSING A BUSY AVENUE can be dangerous.
CLEANING THE HOUSE can be boring.
STAYING UP LATE can be a good thing.
GETTING CHILDREN TO HELP AROUND THE HOUSE can be difficult to do.
WORKING IN A BANK can be rewarding.
Deu pra pegar as atividades?  Cruzar uma avenida movimentada, limpar a casa, ficar acordado até tarde, fazer criança ajudar na arrumação da casa e trabalhar em banco. Essas foram as atividades que constituíram os sujeitos das orações acima; em todas elas, a ação (o verbo) está na forma -ING.
Mesmo que isso ainda pareça estranho pra você, faça a atividade abaixo – se você já tiver um conhecimento em nível pré-intermediário, não será difícil. Passe estas frases para o inglês:
Ver televisão pode fazer mal (fazer mal = be bad for you)
Falar no telefone pode ser cansativo (cansativo = tiring)
Lavar roupa pode ser tedioso
Que tal? Estranhou? É só o começo. Comece ou continue reparando nessa estrutura por aí. Não será difícil, pois ela é muito, muito comum ;)