Podcast: Download
Assine: Apple Podcasts | Android | Google Podcasts |
Hello, everybody. O episódio de hoje fala sobre trocadilhos em inglês.
Transcrição
What's up? Today we have a new episode of the inglesonline podcast. Please subscribe to this podcast using the Podcasts app for iPhone or iPad, or listen to the episodes using the Inglesonline Android app. To download or just listen to other episodes and download transcripts, go to inglesonline.com.br and click Podcast Inglesonline.
So I mentioned on our Facebook page the other day that I was having a chat with someone and it went like this:
(Someone said) — I put the heating on. It seems to be working.
(I said) — Cool. No pun intended.
So that person said they had turned on the heating system, or the heater. And I said "Cool", meaning nice. It's a good thing that he turned on the heater. However, "cool" also means not too warm. When you say "It was a cool afternoon", you're saying it was not very warm. Cool doesn't necessarily mean "cold" – in Brazil some people say "Tava fresquinho" or something like that. So the word "cool" can have a meaning that is related to temperature. When I said Cool, it was with the first meaning, nice.
Because my friend had made a comment about the heater, and because I used a word that can mean something also related to temperature, I said "No pun intended". What is a pun? That's what we call in Portuguese "trocadilho". The phrase "No pun intended" means I didn't make a pun intentionally; it wasn't my intention to be funny or anything. Of course, some people make puns intentionally and then say "No pun intended". That's usually part of the joke and the intention is to actually draw attention to the pun.
There are lots of words in English that have more than one meaning, so puns can happen fairly often. And there's also what's called a "bad pun"… Can you imagine what that is? I'll give an example of a pun my dad loves to make. Every time we see a dessert called "Pavê", he says "É pavê ou pa comê?" Yep, that's true. He says that. That's a bad pun.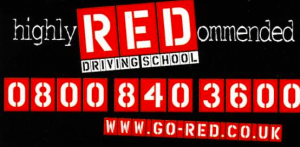 Well, if you thought that was bad, wait for this one. Last week I saw an ad for a driving school here in the UK and the driving school's name is Red. You know, Red like the color. Only their tagline is "Highly red-ommended". Get it? Instead of "recommended", they say "red-ommended". Awesome :) I found their advertisement online and included the image on the post – take a look.
​Não perca nenhum episódio do Podcast
So what do you think? Is "highly red-ommended" a bad pun?
Now please let us know what your best examples for puns are, especially if they're bad puns! There's usually someone in the family – usually a dad or an uncle – that loves making puns. Let us know in the comments and talk to you next time!
Keywords
no pun intended
a bad pun
[audio:http://media.blubrry.com/podcast_ingls_online/www.inglesonline.com.br/mp3/podcast-pun.mp3]