Hi, everybody! Abrimos 2014 com um post da série Inglês com Cartoons, e no de hoje, como sempre, temos uma imagem com uma fala, perguntas e um exemplo. Você usa a imaginação para dar suas próprias respostas em inglês nos comentários.
Perguntas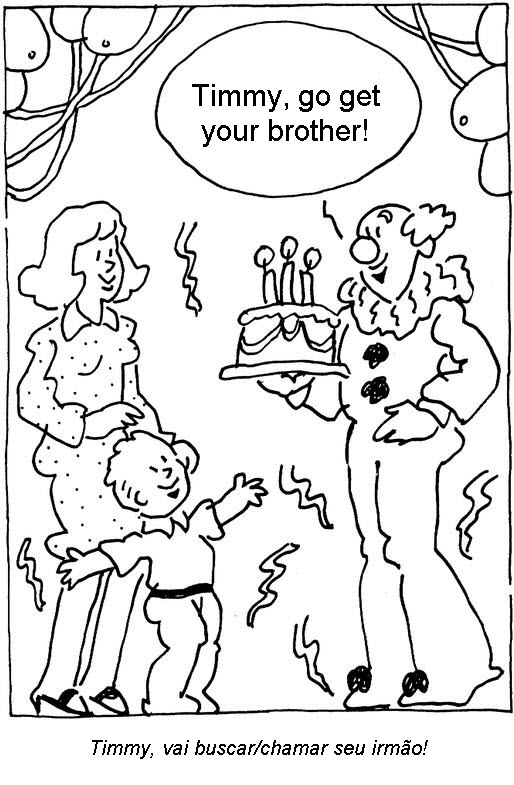 (a) Why did the clown say that to the boy? Porque o palhaço disse isso ao garoto?
(b) Who's the woman standing behind the boy? Quem é a mulher de pé atrás do garoto?

(c) Whose birthday is it? De quem é o aniversário ou Quem está fazendo aniversário?

Minhas respostas
(a) Because that boy's brother hid the candles, and they need the candles right now (it's time to sing "Happy Birthday). Porque o irmão do garoto escondeu as velas, e eles precisam das velas agora (é hora de cantar Parabéns).

(b) She's the boy's second cousin, and she's very close to him. Ela é prima em segundo grau do garoto, e muito próxima a ele.
(c) The clown. He is the boys' father and he really enjoys dressing up as a clown. Do palhaço. Ele é o pai dos garotos e ele adora se fantasiar de palhaço.

E você? Quais seriam as suas respostas?
E aqui vai o PDF com o cartoon anterior – You have nothing to worry about – com todas as respostas (editadas quando necessário) para quem quiser guardar.