Podcast: Download
Assine: Apple Podcasts | Google Podcasts |
Hello, everybody. O episódio de hoje fala sobre duas expressões do inglês com a palavra sheep.
Transcrição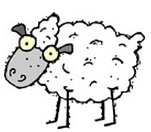 Hi, everyone. How have you been? Today we have a new episode of the inglesonline podcast. Please subscribe to this podcast using the Podcasts app for iPhone or iPad, or listen to the episodes using the Inglesonline Android app. To download or just listen to other episodes and download transcripts, go to inglesonline.com.br and click Podcast Inglesonline.
So this is our first episode in the new year, and today I'm gonna talk about a couple of expressions with the word sheep. What does sheep mean? Well, take a look at the picture and you'll know. Sheep is an animal and, by the way, this is one of those words that doesn't have a different plural form. We say one sheep, two sheep, three sheep and so on. Also, notice the difference between the pronunciation of 'sheep', which is the animal we're talking about here, and which is a word that is spelled s-h-e-e-p, and 'ship', s-h-i-p, which is a big boat. Sheep and ship.
Alright, so the first expression of today is a very easy one, since it's literally the same thing we say in Portuguese: black sheep of the family. Who's never heard it in in Portuguese before – "ovelha negra da família"? We even have a famous song titled 'Ovelha Negra' if I'm not mistaken. So, yeah, that means the same in English. The classic definition of the black sheep of the family is someone who is the worst member of that family. Not nice, really… Of course, sometimes it's used with the opposite meaning in a joking way. Let's say everyone in your immediate family is an architect: your mom, your dad and all your brothers and sisters. You, however, have chosen to become a veterinarian. When you tell someone all that, you could joke that you're the black sheep of the family since you've chosen to become a vet in a family of architects. So, tell us: are you the black sheep of your family? C'mon, tell us the truth!
Now, the second expression is a very interesting one: wolf in sheep's clothing. A wolf in sheep's clothing would be a wolf that is disguised as a sheep. Wolves are usually thought to be dangerous animals, right? Sheep, on the other hand, are perceived as docile and harmless. So a wolf in sheep's clothing is an expression for someone who's pretending to be very innocent and harmless, but is actually dangerous.
Imagine a situation where everyone thinks this new person – could be someone in the office, for example… So this new person seems to be very nice, very well-meaning and everyone is instantly impressed by them. Only, you have this feeling that this is someone who's actually a wolf in sheep's clothing. You have this hunch that you should be careful around this new employee and observe them closely before trusting them.
Have you ever had that feeling, or have you ever actually met someone who's a wolf in sheep's clothing? Who was that? Tell us your stories in the comments, and talk to you next time!
Não perca nenhum episódio do Podcast

Keywords
black sheep in the family
wolf in sheep's clothing
Glossary
if I'm not mistaken = se eu não estiver errada
a vet = a veterinarian
disguised = disfarçado
harmless = inofensivo
well-meaning = que tem boas intenções
hunch = palpite, sensação de saber alguma coisa