Hi, all! Mais um post da série Inglês com Cartoons. Como é de costume, temos um cartoon com uma fala, perguntas e um exemplo. Você usa a imaginação para dar suas próprias respostas em inglês nos comentários.
A fala no cartoon quer dizer "A moldura é sua se você a quiser, Dave."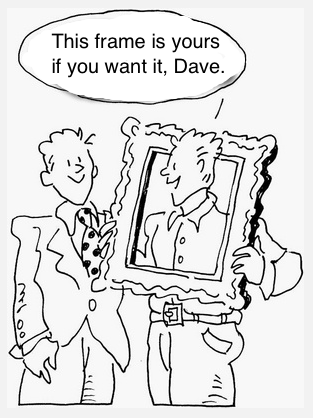 Perguntas
(a) Where does the frame come from? De onde vem a moldura?
(b) Will Dave take the frame? Why? O Dave vai levar a moldura? Por que?
(c) What are these two gonna do next? O que esses dois vão fazer em seguida?
Minhas respostas
(a) It comes from an old historic painting that John (the other guy) inherited from his grandma. The painting got destroyed in a fire but fortunately nothing happened to the frame. Vem de uma antiga pintura histórica que John (o outro cara) herdou de sua avó. A pintura foi destruída em um incêndio mas felizmente nada aconteceu com a moldura.
(b) Yes, he will. He is a painter, so he is looking forward to putting one of his latests works in that frame. Sim, ele vai. Ele é um artista, e por isso quer muito colocar um de seus últimos trabalhos naquela moldura.
(c) They're going out for a beer. Eles vão sair pra tomar uma cerveja.
E você? Quais seriam as suas respostas?
E aqui vai o PDF com o cartoon anterior (clique na imagem ao lado) – I had a wonderful time – com todas as respoPstas, editadas quando necessário, para quem quiser guardar.