Hey, what's up?
I'm passionate about…

Essa semana a tuiteira @lismagol me enviou essa pergunta:
Is it correct to say 'passionate for books'?
E eu respondi que é melhor (correto mesmo) dizer 'passionate about'.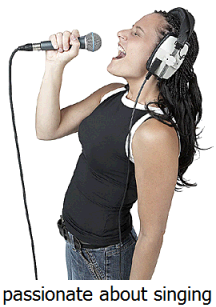 What are you passionate about? Here are a few of mine:
I'm passionate about using online media.
I'm passionate about dogs.
I'm passionate about teaching English.
We can also say… Podemos dizer também…
I have a passion for online media.
I have a passion for dogs.
I have a passion for teaching English.
He has a passion for college football.
She has a passion for traveling.
When people start up a blog, they usually pick a topic they have a passion for (or they usually pick a topic they are passionate about).
By the way, if you have a blog… tell us what your topic is. It's probably something you are passionate about.
–> Ouça passion e passionate
The meaning of passionate about

Lembre-se que passion e passionate são palavras fortes, que indicam que você tem um sentimento forte por alguma coisa no sentido de praticá-la, ou defendê-la, ou fazer com frequência, e indica que você se dedica a essa coisa, gosta de falar disso, etc.

Por exemplo, se uma pessoa diz que é passionate about politics, essa pessoa provavelmente lê tudo sobre política, adora falar sobre isso, tem várias opiniões, etc.

Por outro lado, para dizer que você ama alguém ou alguma coisa, podemos usar o tradicional love, é claro, ou, por exemplo, "I'm crazy about him / her / my friends/ guaraná/ etc" Para mais ideias sobre como descrever coisas que você gosta muito ou mais ou menos, veja as dicas Likes and Dislikes 1 e Likes and Dislikes 2.
Tô com uma vontade danada de comer doce

E pensamento vai, pensamento vem, me lembrei de um post muito legal do professor Rogerio em que ele usava um trecho de uma entrevista do David Letterman com uma atriz da série de televisão The Office. Na entrevista, a atriz contava que tinha ido ao mercado comprar pudim de tapioca. Why? Because she had a hankering for the tapioca.
A hankering for é uma vontade forte de fazer alguma coisa, de comer alguma coisa, ouvir um certo tipo de música, e por aí vai. E aqui vai uma outra palavra similar: crave.
Crave pode aparecer de algumas maneiras diferentes, mas repare como quase todos os exemplos abaixo são com comida:
I've been craving meat lately. Eu tenho sentido uma vontade danada de (comer) carne ultimamente.
Last weekend we were craving fast food so we just went into a McDonalds and stuffed our faces [= comemos muito]
What do you do when your child craves attention? [quando sua criança quer muita atenção com frequência]
como 'craving' ou 'cravings' (substantivos)
A atriz lá na entrevista poderia ter dito I had a craving for tapioca.
We had a craving for fast food, and that's why we had lunch at McDonalds.
I have a craving for chicken soup but I can't find a good recipe.

Cravings é muito usado ao lado de food, como em food cravings.
Food cravings usually intensify during pregnacy. Desejo forte por (algumas) comidas geralmente fica mais intenso durante a gravidez.
Cravings também é muito usada para descrever o que uma pessoa sente quando corta um vício:
Right after she quit drinking, she experienced alcohol cravings all the time.
The meaning of crave and craving

CRAVE e CRAVING são palavras que expressam um desejo intenso por alguma coisa (não é à toa que frequentemente são usadas com comida ou algum vício) e não são muito comuns ao lado de coisas que não despertam sentimentos intensos – por exemplo "estudar", "lavar louça", "passear com o cachorro" ou "ler jornal".

Nestes casos, você pode usar "I'm not crazy about studying, but I have to" para expressar que você não AMA estudar, mas tem que estudar.

Por exemplo: pode soar estranho você dizer "I crave watching TV". Essa sentença expressa uma vontade, hmmm, quase doentia de assitir TV! Se você estivesse exagerando de propósito, por brincadeira, tudo bem… mas normalmente uma pessoa diria algo como "I love TV, I love watching TV, I'm crazy about this or that TV show, etc."
–> Ouça craving
Que tal você contar como usaria passionate about, a passion for, crave ou craving?