Hoje vamos falar sobre duas expressões com a palavra COLD.
Transcrição
Hi, everyone! How's it going? This is Ana Luiza, with a new episode of the inglesonline podcast. To download or just listen to other episodes and download transcripts, go to inglesonline.com.br and click Podcast Inglesonline.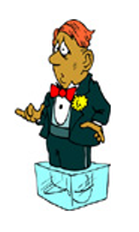 Today we have a couple of expressions with the word "cold". Yes, cold, the opposite of hot. The first expression has to do with "cold feet". Cold feet. Just as a reminder, feet is the plural of foot. One foot, two feet. Look at the picture: there's a guy in a tuxedo, and his feet are cold. He's got cold feet. Why? Well, apparently he's about to commit to something really important, and he got scared all of a sudden. Maybe… he's about to get married!
If you're used to watching American movies, especially movies where there's gonna be a wedding, you have probably heard the expression cold feet. For example, the engaged girl, who's about to get married, is talking to her best friend, and she's saying that she's not so sure she's ready to get married. Then her best friend says "Are you getting cold feet?"
So, yeah, this expression "He's got cold feet" or "She's getting cold feet" has to do with anxiety or fear, regarding something that you're about to do, or something that you were supposed to do. However, now, you're not so sure you can go through with it. You're not so sure you want to do it. You're having doubts, you're feeling insecure, you're a little anxious about it… you've got cold feet. Of course, some people are engaged to be married and then, they get cold feet and eventually they break off the wedding. Some people get cold feet on the day of the wedding. Now, that's usually not a good sign.
We can get cold feet about other things, though. Example: some friends are planning a trip to the North Pole and they invite you to join them. You're really excited, but your friends are telling you about all the different kinds of equipment you guys will have to take to be able to do stuff in the North Pole… and you're starting to have second thoughts. You're feeling a little anxious about this trip and now you're not so sure you wanna go anymore. You are definitely getting cold feet about going to the North Pole, no pun intended.
OK, changing topics: here's another great expression with the word cold. Let me give you an example. Let's say you're a guy and just started dating a girl, and after a month she decides to take you to meet her family. You get there and you meet her brother, her sister, her mother and her father. They're all really friendly and nice to you, except her brother. He's not being friendly at all. You try to initiate a conversation with him a few times, but he'll answer yes or no and then he'll start talking to someone else. You ask him about his job but he pretends he can't hear you… he's ignoring you completely. This guy is giving you the cold shoulder.
You have no idea why this guy is doing that. Everyone in the family is treating you well. They can hear you when you talk to them. This guy, on the other hand, is behaving like you're not even there. He is totally giving you the cold shoulder. So you finally accept that he must be really immature and you give up trying to get to know him. Has something like that ever happened to you? I think everyone has been through a situation where they were trying to get to know someone, and the other person gave them the cold shoulder.
So what are your stories? When was the last time you got cold feet, and why did you have cold feet? When was the last time someone gave you the cold shoulder, or you gave someone the cold shoulder? Let us know and talk to you next time!
Não perca nenhum episódio do Podcast
Key expressions
get or have cold feet
give someone the could shoulder
Glossary
go through with something
have second thoughts
no pun intended = o trocadilho não foi intencional (você está tendo "cold feet" ao pensar em ir para o Pólo Norte)