Podcast: Download
Assine: Apple Podcasts | Google Podcasts |
Hi, all. How's it going? Nesse episódio do podcast Inglês Online falamos sobre um ditado em inglês que diz que a gente colhe o que planta, mais usos do verbo reap (colher).
Transcrição
Hi, everyone. What's up? Today we have a new episode of the inglesonline podcast. To download or just listen to other episodes and download transcripts, go to inglesonline.com.br and click Podcast Inglesonline.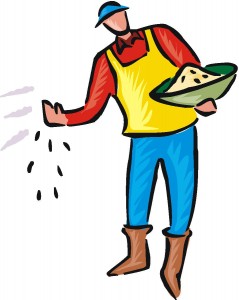 So today let's take a look at a popular saying in English: you reap what you sow. You reap what you sow. We have a similar ditado in Portuguese: "a gente colhe o que planta". Have you ever heard this saying here in Brazil? Well, it is used by English speakers basically in the same way we use it in Portuguese: to say that what we experience, or the results we get, are consequences of our own actions.
So let's take a closer look at the key verbs in this saying: reap and sow. Sow is a verb frequently used together with the word "seeds". Do you see the picture? That guy is sowing some seeds. He's spreading the seeds over an area of land and soon, if all goes well, some kind of plant will start growing there, and he will reap fruits or maybe grains. So the process of growing something on the land illustrates very well what this saying means. For example, if you sow orange seeds, you will eventually reap oranges. If you sow apple seeds, you'll reap apples. If you sow corn, corn will grow and you won't reap olives! You will reap corn.
So figuratively speaking, if you sow lies and deceit, you will probably reap… something that is not good. You may end up without a job, or without support from other people and so on. What do you think about that? Would you agree that people reap what they sow?
So of course the word "reap" is very often used figuratively in conversation. For example, people say that if you work hard at something, you will reap the rewards later. Reap the rewards. What does reward mean? A reward is something you get in return for doing something else, usually something good. So, let's say, if you go to college and study really hard you will later reap the rewards of your hard work. You'll probably get a good job, or you're going to become a scientist and become very famous, something like that.
Here's an example: your friend Richard started eating more veggies six months ago and now he's reaping the rewards. He feels better and he looks better, so he's reaping the rewards of his dietary change. Many bloggers are reaping the rewards of putting a lot of work into their blogs over the years. Can you think of an example from your own life? Maybe you abandoned a bad habit some time ago, and now you're reaping the rewards of doing so. Maybe you started saving some money last year and now you're reaping the rewards: you have enough money to fulfill your dream of traveling around the world. What's your example?
And, finally, it is also common to say that, after saving some money, or working hard, you're now reaping the fruits of your actions. Of course, the fruits can be bad or good, depending on your actions. For example, if you kept lying to a friend in order to take advantage of him, and… let's say your friend just found out about all your lies and he never wants to see you again, and he's telling everyone about how you're such a big liar. Well… it looks like you're reaping the fruits of all that lying, right?
So let us know about your example. A genuine example; something that really happened in your life. Are you reaping the rewards of something you did in the past? Talk to you next time.
Key expressions
You reap what you sow
Reap the rewards
Reap the fruits of (your actions)
Glossary
deceit = ato de enganar; fraude
veggies = forma informal de "vegetables"
fulfill a dream = fazer um sonho se realizar
Latest posts by Ana Luiza
(see all)