Hey, all. Nesse episódio do podcast Inglês Online eu falo sobre alguns outros idioms com os números five, nine e ten.
Transcrição
Hi, everyone. How's it going? Today we have a new episode of the inglesonline podcast. To download or just listen to other episodes and download transcripts, go to inglesonline.com.br and click Podcast Inglesonline.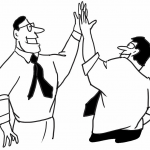 Last episode I gave you two idioms with the word "two", and this episode we take a look at expressions with numbers five and nine. So, what would you do if someone said to you "Give me five!"? Well, after you've listened to this podcast, you'll know what to do. Just slap your open hand against their hand – which will be raised and waiting for the slap.
That gesture, with the hands raised and the slap, is called a high-five. Americans love to high-five each other when they're celebrating something, even something small, so if you're around Americans and one of them says to you Gimme (=give me) five, just raise your hand and slap theirs. That's all their asking!
Here's another one with "five": Let's take five. Let's take five is short for 'Let's take five minutes off'. You know when someone says "I'm taking the day off", meaning they're not working that day? So when someone says  Let's take five, that means "Let's take five minutes off". Let's take a short break. Let's take a break that lasts approximately five minutes. Let's take five.
So when would it be usual for someone to say that? When, for example, you're at some project meeting working on something with your team, and you guys have been working for three hours already, and the team leader decides it's time for a break. He or she says Let's take five. Or let's say you're in ballet practice right now, and you and other dancers have been working hard the whole afternoon. You've been working so hard that the ballet teacher looks at you and says John, good job. Great legwork today. So the teacher decides it's time for a break and says to the class Let's take five, everyone.
And I also wanted to throw in a very popular set phrase that has the words nine and ten in it. When we say that something will happen nine times out of ten, that means that thing will almost always happen; that is usually what will happen. Example: Nine times out of ten Brazilians will eat rice and beans in a meal. Maybe I'm exaggerating? I don't know. Do you eat rice and beans almost every day? Another example: a computer technician explains that even unexperienced computer users can solve most problems on their own. He says "Nine times out of ten, you can fix the problem yourself".
Here are my own examples: when I go to a café, nine times out of ten I'll order a café mocha, which is coffee, milk and chocolate syrup. When I'm home for dinner, nine times out of ten I'll cook my own meals. That means that I'll almost always order café mocha, and almost always cook my own meals when I'm home.
Also, notice how I said "Nine times out of ten I WILL cook my meals", although I'm talking about a habit. That's a topic for a future podcast or English tip.  So what are your examples? Let us know in the comments and talk to you next time.
Key expressions
Gimme (give me) five
Let's take five
nine times out of ten
Glossary
legwork = "trabalho com as pernas", o conjunto de movimentos feito com as pernas numa coreografia
wanted to throw in = queria acrescentar, colocar também
[audio:http://media.blubrry.com/podcast_ingls_online/www.inglesonline.com.br/mp3/podcast-gimmefive.mp3]