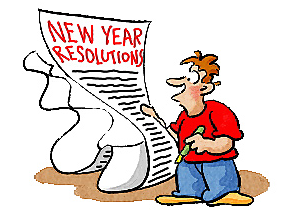 Dizer que vai "Fazer dieta" não vale. Pronto. Vamos assumir que essa já está na lista de todo mundo :) Essa é, sem dúvida, a mais popular aqui em terras brazucas.
Agora, sério: o tema "New Year resolutions" é, ao mesmo tempo, batido, e também é sempre presente. Todo ano tem gente tomando decisões sobre o que vai ser melhor, o que vai ser diferente no Ano Novo.
Ontem eu vi no Facebook uma amiga postar a distância que ela rodou de bicicleta em 2012 (foi bem longa), dizendo que vai continuar em 2013 e escrevendo ao lado #newyearresolution.
Pois é. O que você escreveria ao lado da hashtag #newyearresolution no Facebook ou no Twitter (ou, pra quem não usa nenhum desses e não sabe o que é hashtag… Qual seria a sua principal resolução de Ano Novo?).
Two weeks later: Resolution fails
Então, gente: "resolutions" é mesmo um assunto batido que todo fim de ano volta à tona (o que não quer dizer que seja um assunto ruim), especialmente em veículos na língua inglesa. Tanto é que se você procurar material de humor, por exemplo, envolvendo  resolutions vai encontrar um monte. Dá pra adivinhar a razão da tiração de sarro, né? É claro que é muito comum a gente falar que vai fazer uma coisa, e aquilo ficar só no blablabla.
Eu encontrei esse vídeo bacana que dá uma olhada justamente nisso. Agora, é sempre bom observar que tem muita gente que coloca sim as resoluções em prática. Se você é um desses, por favor tell us in the comments!
Assista o vídeo umas 2 vezes (e veja que resolutions é um assunto ótimo para exemplos de uso de going to para futuro).
Quais resoluções do pessoal lá no vídeo você conseguiu compreender? Eu listei abaixo 9 resolutions, mas não olhe ainda ;)
Assista o vídeo de novo, e só então… confira a lista abaixo. Quais você pegou?
"I'm gonna eat healthy" (0:13)

"I'm gonna drink less" (0:18)

"I'm gonna get a pet" (0:27)

"I'm gonna study more" (0:34)

"I'll be more patient" (0:40)

"I'm gonna spend more time with my family" (0:52)

"We're gonna learn how to bake" (1:03)

"I'm gonna learn to paint / I'm gonna read more" (1:29)

"I'm gonna learn Chinese" (1:16)
Agora, responda isso: para cada uma das resolutions… o que foi que deu errado, ou não saiu de acordo com o plano? Deixe seu comentário em português mesmo, ou em inglês se quiser.
Por exemplo, para "I'm gonna eat healthy" (0:13), o rapaz olhou uma caixa de flaxseed (semente de linhaça) e desanimou rapidinho. He kinda tried to give flaxseed a go… but that didn't go anywhere. (Ele meio que tentou experimentar linhaça… mas não deu em nada)
Aguardo os comentários de vocês sobre o que deu errado na hora de manter as "resolutions", e também…
What are your resolutions? Can you relate to any resolutions mentioned in the video? Can you relate to the ways people CAN'T keep their resolutions in the video?
Mais dicas com resolutions:
Latest posts by Ana Luiza
(see all)