Podcast: Download
Assine: Apple Podcasts | Google Podcasts |
Hi, everyone. No episódio de hoje, continuo falando sobre um dos assuntos mais populares e requisitados por alunos de inglês: o uso das preposições. O foco é no uso de IN nas expressões in bed, in church, in hospital e in prison / jail.
Transcrição
Hi – how have you all been? Here's a new episode of the Inglesonline podcast. Please subscribe to this podcast using the Podcasts app for iPhone or iPad, or listen to the episodes using the Inglesonline Android app. To download or just listen to other episodes and download transcripts, go to inglesonline.com.br and click Podcast Inglesonline. Today let's take a look at very common ways to use IN regarding places. I thought it would be good to focus on those cases where there is no THE – you know, the article THE. 'Cause we say "in the" a lot… like in the park, in the office, in the house.
So when there's no THE, people tend to miss it.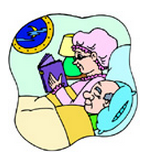 So let me give you this example: I gave my friend a ring, and she was still in bed. It was 11am and she was still in bed. Not "in the bed", but just in bed. If it's a Saturday and someone comes looking for your brother at 8am, you could say "Sorry, he's still in bed". Or you could say "I think he's still asleep" but you can say "He's still in bed". Yesterday I stayed in bed until noon. OK, that's just an example – I rarely stay in bed past 9am. When I wake up in the morning, I enjoy staying in bed for a few minutes before getting up. Are you the same? Do you wake up and stay in bed for a few minutes, or do you immediately get up and get going?
And, you know, sometimes when you're sick, when you're ill… you have to spend a lot of time, where? That's right, in bed. When we're sick, sometimes we have got to spend a lot of time in bed. Now, if you're still sick after a while, you may need to be hospitalized. So let's say that your parents take you to the hospital and check you in. So after a few days, your friend Mark gives you a ring and obviously you're not home. Your mom gives Mark the news: you're in hospital. She tells him that you've been in hospital for some time now, but you're getting better. So that's it: if someone's in hospital, that means they have been hospitalized. They're in hospital. Maybe they'll have to spend two, three weeks in hospital. They may need to stay in hospital for the whole month.
Here's another one: he's in church, she's in church. Not "in the church", just in church. So you may call someone up and their mother, or husband, or whoever will say "Oh, she's in church right now. She should be back in an hour." Or maybe you're the one who goes to church every Sunday. And maybe there's someone in your family who doesn't go to church with you, so while you're in church this person is home watching TV, maybe. And let's say your neighbors are church-goers as well. So you always see them in church. You keep running into them in church. And there are lots more people in your neighborhood that go to the same church. And you know that because you always see them in church.
And here's one more: Jack is in prison. In prison. If you're the kind of person who often reads the news in English, you're probably familiar with this one. In prison, and you can say 'in jail' as well, actually. Same thing. So Jack is in prison; he's doing time in prison. You bump into an old friend, Tom, and you say "So how's Michael doing?" Let's say Michael is a mutual friend of yours. So you ask Tom if he knows how Michael is doing, and to your complete surprise Tom says Michael is in prison. You can't believe what you've just heard. In prison? Your childhood friend Michael is… in prison! So the following week you go visit Michael. And Michael tells you that he is going to be in prison for another four years at least. I wanna hear from you, now! Have you ever stayed in bed until 1pm? Do you know anyone who's in hospital right now? Do you happen to know anyone who's in prison? Let us know in the comments and talk to you next time!
Keywords
in bed
in hospital
in church
in prison, in jail
Glossary
people tend to miss it = as pessoas costuma sentir falta dele
she's asleep = ela está adormecida (ou como dizemos: está dormindo)
get up and get going = levanta e já vai fazendo o que tem que fazer
check you in = fazem seu check-in no hospital
church-goers = pessoas que frequentam igreja doing time = cumprindo pena