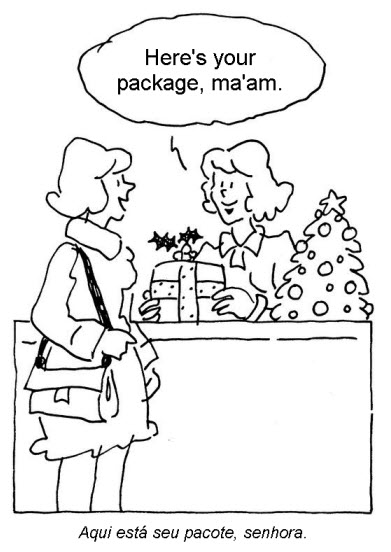 Hi, everyone! No cartoon de hoje, como sempre, temos uma imagem com uma fala, perguntas e um exemplo. Você usa a imaginação para dar suas próprias respostas em inglês nos comentários.
Perguntas
(a) Who's the present for? Pra quem é o presente?
(b) What's in the package?  O que está no pacote?
(c) What is the woman who bought the present going to do now? O que a mulher que comprou o presente vai fazer agora?

Minhas respostas
(a) The present is to… herself. She bought herself a present. She does that every Christmas, in addition to buying presents for her family. O presente é… para ela mesma. A mulher comprou um presente para ela mesma. Ela faz isso todo Natal, além de comprar presente pra família dela.

(b) A beautiful hat. Um lindo chapeu.

(c) She'll be shopping for the rest of the day. She's going to try and find other presents for herself and her family. Ela vai continuar fazendo compras pelo resto do dia. Ela vai tentar achar mais presentes para ela e sua família.

                 E você? Quais seriam as suas respostas?
E aqui vai o PDF com o cartoon anterior – Here are your curtains – com todas as respostas (editadas quando necessário) para quem quiser guardar.